KLEENOWIPE Exfoliating & Cleansing Alcohol Free Facial Wet Wipes For Men & Women(15 Tissues)
KLEENOWIPE Exfoliating & Cleansing Alcohol Free Facial Wet Wipes For Men & Women(15 Tissues)
Hypoallergenic Exfoliating & Ultra Cleansing Facial Wipes For Men & Women - 15 Pc Alcohol Free pH Balanced Soft Wipes - Deep Cleansing & Exfoliating Facial Wipes are the ideal solutions for makeup removal and gentle exfoliation when you are on-the-go - These innovative double-sided textured wipes offer dual benefits - The smooth, soft side gently cleanses and efficiently removes all traces of makeup-including waterproof makeup, revealing a fresh and smooth skin - The exfoliating side, made out of integrated micro-spheres, gently polish dullness in your skin by eliminating impurities and dead skin cells - It leaves your skin with an even, smooth and radiant look - The practical resealable pack can be taken everywhere and is ideal for travelling - These wipes are pH balanced, dermatologically tested & alcohol-free - Multipurpose premium quality ultra cleanser gentle use and throw napkins / wipes to keep in purse, car, office or in your vaniety bag. Best for daily use, makeup removing, new born babies - Manufactured at ISO 9001, ISO 13485, ISO 22716 and ASEAN-cGMP certified state of the art facilities in Singapore and Vietnam offering ``Best in Class`` ultra cleansing disposable facial wipes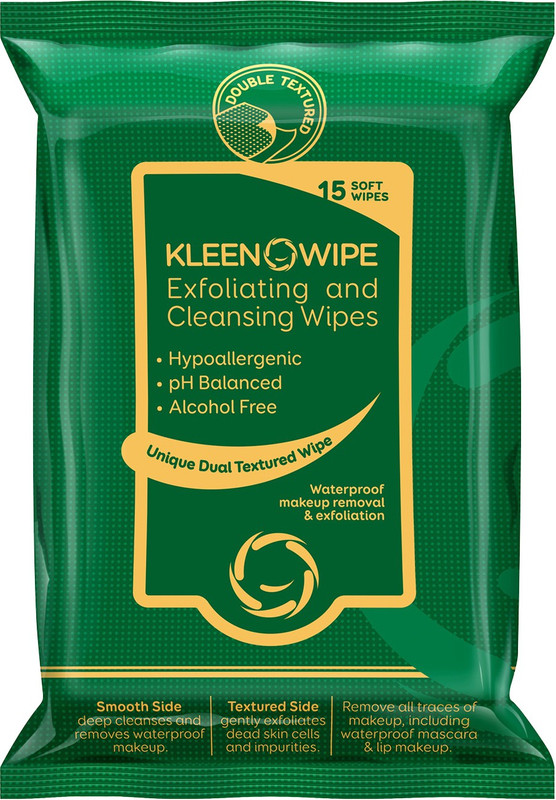 KLEENOWIPE Exfoliating & Cleansing Alcohol Free Facial Wet Wipes For Men & Women(15 Tissues)
Buy Now
Flipkart
as of September 12, 2020 11:30 pm
Highlights
For Men, Women, Male, Female, Unisex
Type: Wet Tissue
Skin Type: All Skin Type
Specifications
In the Box
Set of
1
Sales Package
New Hypoallergenic Exfoliating Face Wipe
General
Brand
KLEENOWIPE
Model Name
Exfoliating & Cleansing Alcohol Free Facial Wet Wipes For Men & Women
Total No of Pieces
15
Model Number
FG-KW3853
Ideal For
Men, Women, Male, Female, Unisex
Skin Type
All Skin Type
Type
Wet Tissue
Additional Features
Other Features
Integrated with microspheres that act as a gentle exfoliator, the textured surface of KleenOWipe Exfoliating & Cleansing Facial Wipes gently clears impurities and dead skin cells from your face, neck and hands. The result? Skin that looks even, smooth and radiant., Infused with Salicylic Acid, the soft side of KleenOWipe Deep Cleansing & Exfoliating Facial Wipes acts as a gentle cleanser, controlling flaky skin and revealing a fresh, even tone., For ultra sensitive skin, the KleenOWipe Exfoliating & Cleansing Facial Wipes packs in the goodness of chamomile, which helps relieve inflammations and flaky skin., Multipurpose premium quality ultra-cleanser skincare wipe that is easy to carry in purse, car and bag, and handy for use at home, office, travel, gym, nightout, and other occasions.
Hypoallergenic Exfoliating & Ultra Cleansing Facial Wipes For Men & Women - 15 Pc Alcohol Free pH Balanced Soft Wipes - Deep Cleansing & Exfoliating Facial Wipes are the ideal solutions for makeup removal and gentle exfoliation when you are on-the-go - These innovative double-sided textured wipes offer dual benefits - The smooth, soft side gently cleanses and efficiently removes all traces of makeup-including waterproof makeup, revealing a fresh and smooth skin - The exfoliating side, made out of integrated micro-spheres, gently polish dullness in your skin by eliminating impurities and dead skin cells - It leaves your skin with an even, smooth and radiant look - The practical resealable pack can be taken everywhere and is ideal for travelling - These wipes are pH balanced, dermatologically tested & alcohol-free - Multipurpose premium quality ultra cleanser gentle use and throw napkins / wipes to keep in purse, car, office or in your vaniety bag. Best for daily use, makeup removing, new born babies - Manufactured at ISO 9001, ISO 13485, ISO 22716 and ASEAN-cGMP certified state of the art facilities in Singapore and Vietnam offering ``Best in Class`` ultra cleansing disposable facial wipes
Join Our NEW Telegram Channel and WIN PAYTM CASH FREE-Join Now