Last update was on: February 27, 2020 10:36 am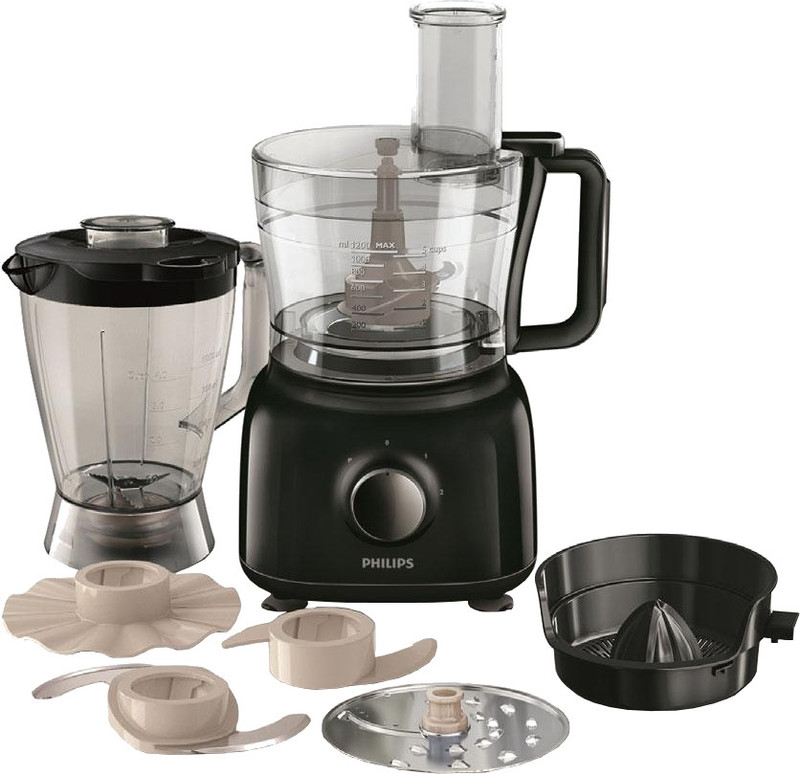 Philips HR 7629/90 650 W Food Processor(Black)
Rs. 5,695
Rs.

4,799
in stock
Buy Now
Flipkart
as of February 27, 2020 10:36 am
Highlights
Power Requirement: 50/60 Hz, 220 - 240 V
Power Consumption: 650 W
Energy Rating: 4
Color: Black
Grating | Whipping | Shredding
Chopping
Pureeing | Blending
Specifications
In the Box
Unit, Warranty Card, User Manual
General
Body Material
ABS Body
Speed Settings
2 Speed Settings
Motor Speed
1500 rpm - 1900 rpm
Pulse Settings
1 Pulse Settings
Number of Attached Bowls
1
Functions
Grating
Yes
Kneading
Yes
Other Functions
Whipping, Blending, Pureeing, Chopping, Shredding
Jar Features
Liquidizing Jar
1.5 L Liquidizing Jar
Juicer Features
Citrus Juicer
Polypropylene Citrus Juicer
Attachment Features
Bowl Attachment
2.1 L Bowl
Blender
1.75 L Blender
Pusher
SAN Pusher
Blade Features
Chopping Blade
Stainless Steel Chopping Blade
Slicing Blade
Stainless Steel Slicing Blade
Disc Features
Discs
Yes
Reversible Sliding Disc
Stainless Steel Reversible Sliding Disc
Shredding Disc
Stainless Steel Shredding Disc
Convenience Features
Dish-washer Safe
Yes
Additional Features
Stainless Steel Chopping Knife, PP Kneading Tool, Upto 5 Portions in One Go, Easy Release Suction Feet, Non-slip Feet, Emulsifying Tool, SAN Bowl Including Lid, Safety (Lid and Bowl Detection, Mechanical 1.5 sec Brake), ABS Speed Knob, Stainless Steel Dis
Power
Energy Rating
4
Power Requirement
50/60 Hz, 220 - 240 V
Power Consumption
650 W
Dimensions
Width
25.5 cm
Height
42 cm
Depth
36.5 cm
Warranty
2 Years Warranty on Repairing Or Replacing Parts
Get this food processor set from Philips to make chopping, slicing and shredding easy, helping you save time and energy while cooking. The set comes with a 2.1L bowl, a mixer and a citrus press for fresh citrus fruit juices. The parts of this food processor set are dishwasher safe and this makes it easy to clean and maintain.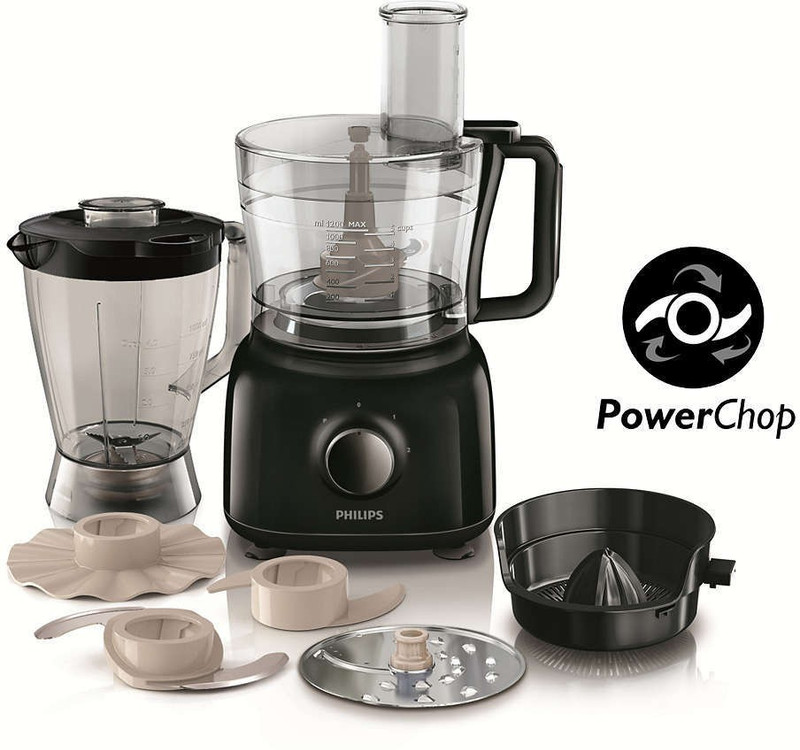 Philips HR7629/90 650 W Food Processor(Black)
Rs. 6,095
Rs.

5,490
in stock
Buy Now
Flipkart
as of February 27, 2020 10:36 am
Highlights
Power Requirement: 220-240 V, 50/60 Hz
Power Consumption: 650 W
Energy Rating: 4
Color: Black
Chopping
Juicing
Specifications
In the Box
1 Food Processor, User Manual & Warranty Card
General
Type
Food Processor
Speed Settings
2 Speed Settings
Motor Speed
1500 RPM - 1900 RPM
Processing Bowl
Yes
Processing Jar
2 L Processing Jar
Functions
Number of Functions
26 Functions
Juicing
Yes
Kneading
Yes
Other Functions
Chopping
Jar Features
Muti-purpose Jar
2 L Multi-purpose Jar
Juicer Features
Citrus Juicer
1 L PP Citrus Juicer
Attachment Features
Sieving Attachment
Stainless Steel Sieving Attachement
Bowl Attachment
1.7 L Bowl
Blade Features
Chopping Blade
Stainless Steel Chopping Blade
Slicing Blade
Yes
Whipping Blade
Stainless Steel Whipping Blade
Disc Features
Discs
Yes
Convenience Features
Overload Protector
Yes
Safety Locks
No
Washable
Yes
Dish-washer Safe
Yes
Other Convenience Features
Auto Shut-off, Vacuum Suction Feet, Easiest assembly, use and cleaning • No mess from center of the bowl due to lack of inner shaft • 40% larger feeding tube (compared to Philips HR7625) • 2 speed settings and pulse for maximum control • 650 Watt motor for powerful processing • Dishwasher safe accessories • Easy release suction feet
Additional Features
Weighs 2.8 kg. Comes with a large capacity bowl and blender that help prepare up to 5 batches in one go. Motor runs at 650W and an operating voltage of 220 to 240V. Colour: Black. No leakage due to absence of inner shaft at the center of the bowl. Comes with a 2 year warranty.
Power
Energy Rating
4
Power Requirement
220-240 V, 50/60 Hz
Power Consumption
650 W
Warranty
2 Years Warranty on Repairing Or Replacing Parts
High-Quality Mini Food ProcessorPreparing home cooked meals has never been easier with the Philips HR7629 food processor. This kitchen appliance features an elegant design to add some sparkle to your kitchenware. The Philips mini food processor can be placed anywhere due to its compact size. Also, this Philips Daily Collection food processor is made of high-quality ABS plastic, giving it a longer life. It comes with a two litre bowl and one litre blender jar to slice, blend, grind and store your food. Regulate the processing level of your food ingredients with the two speed control with pulse function.Features SuperChop Technology For Multiple FunctionsThe Philips daily collection HR7629/90 food processor features the smart SuperChop technology. It processes both wet and dry ingredients in a fine manner, as well as mixes batters, purees and gravy. You can process various fruits, vegetables and other ingredients with the stainless steel disk, avoiding the lengthy task of manually cutting multiple ingredients. With the granulating, shredding and slicing disks, you can use them for various varieties of meat, vegetables and nuts. This Philips food processor features a wider feeding tube to fit in longer, bigger food items.Easy to Clean With Strong MotorTo ensure that you receive optimal performance, this Philips mini food processor runs on a strong 650W motor to process the multiple ingredients. Unlike other food processors, this one does not have an inner chimney. This makes it easier to clean without wet food getting stuck all around the shaft. All the accessories of this food processor can be comfortably washed in a dishwasher as well.
Join Our NEW Telegram Channel and WIN PAYTM CASH FREE-Join Now