Last update was on: February 19, 2020 3:31 pm

Mothercare All We Know Baby Talc(150 g)
as of February 19, 2020 3:31 pm
Highlights
Talcum Powder
Ideal For: Baby Boys & Baby Girls
Bottle Container
Specifications
In the Box
Sales Package
1 Talc Powder
Pack of
1
Talcum Traits
Brand
Mothercare
Model Name
All We Know Baby Talc
Quantity
150 g
Ideal For
Baby Boys & Baby Girls
Organic
No
Model Number
K3607
Maximum Shelf Life
24 Months
Ingredient Type
Natural
Container Type
Bottle

Mothercare Baby Oil(300 ml)
as of February 19, 2020 3:31 pm
Highlights
Ideal For: Baby Boys & Baby Girls
Form: Oil
Skin Type: All Skin Type
Organic Type: Organic
Fragrance: Olive Oil
Specifications
In the Box
Sales Package
1 Massage Oil
General
Ideal For
Baby Boys & Baby Girls
Quantity
300 ml
Container Type
Bottle
Form
Oil
Composition
Contains Natural Extracts Such as Olive Oil and Soothing Chamomile
Fragrance
Olive Oil
Skin Type
All Skin Type
Organic
Yes
Organic Type
Organic

Mothercare All We Know Baby Lotion - K3602(300 ml)
as of February 19, 2020 3:31 pm
Highlights
Application Area: Body
For Baby Boys & Baby Girls
For Sensitive Skin
Lotion Form
Specifications
In the Box
Sales Package
All We Know Baby Lotion - K3602
General
Sales Package
All We Know Baby Lotion - K3602
Model Name
All We Know Baby Lotion - K3602
Quantity
300 ml
Ideal For
Baby Boys & Baby Girls
Form
Lotion
Application Area
Body
Applied For (Face)
Moisturization & Nourishment, Daily Care
Applied For (Body)
Moisturization & Nourishment
Skin Type
Sensitive Skin
Organic
Yes
Composition
Chamomile, Olive Oil
Maximum Shelf Life
24 Months
Dermatologist Tested
Yes
Container Type
Bottle
Other Traits
Midwife Tested, Hypoallergenic and Dermatologically Tested, Non-greasy Formula, Suitable from Birth

Mothercare All We Know Baby Shampoo - K3600(300 ml)
as of February 19, 2020 3:31 pm
Highlights
Daily Care Shampoo
Ideal For: Baby Boys & Baby Girls
Suitable For: All Hair Types
Composition: Proteins
Specifications
General
Applied For
Daily Care
Hair Type
All Hair Types
Composition
Proteins
Container Type
Plastic Bottle
Ideal For
Baby Boys & Baby Girls
pack_of
1

Mothercare All We Know Baby Bath Milk - K3604(300 ml)
as of February 19, 2020 3:31 pm
Highlights
Application Area: Body
For Baby Boys & Baby Girls
For Sensitive Skin
Lotion Form
Specifications
In the Box
Sales Package
All We Know Baby Bath Milk - K3604
Pack Of
1
General
Sales Package
All We Know Baby Bath Milk - K3604
Model Name
All We Know Baby Bath Milk - K3604
Quantity
300 ml
Ideal For
Baby Boys & Baby Girls
Form
Lotion
Application Area
Body
Applied For (Face)
Moisturization & Nourishment, Daily Care
Applied For (Body)
Moisturization & Nourishment
Skin Type
Sensitive Skin
Organic
Yes
Composition
Chamomile, Olive Oil Extracts
Maximum Shelf Life
24 Months
Dermatologist Tested
Yes
Container Type
Bottle
Other Traits
Midwife Tested, Suitable from Birth, Hypoallergenica and Dermatologically Tested
A gentle and calm product from Mothercare is here to soothe your baby's skin and keep it healthy. Suitable for both boys and girls, this organic baby bath milk will make your baby's skin soft and supple. With active natural ingredients such as olive oil extracts and chamomile, this moisturising bath milk will provide the adequate amount of hydration to your baby's skin. As this Mothercare All We Know Baby Bath Milk is hypoallergenic and dermatologically tested, this Mothercare Baby Bath Milk is safe on your baby's sensitive skin. This product from Mothercare is so mild and beneficial that it can be used for babies who are just born. Enriched with olive oil, this baby bath milk keeps moisture close to your baby's skin and does not leave it dry. Olive oil hydrates skin and makes it supple and protects it from flakiness and chapping. Chamomile improves the elasticity of your baby's skin and maintains the texture. Chamomile also has soothing properties that work well for your baby's delicate skin. So use this calming Mothercare Baby Bath Milk for your baby's skin care regime and let them have a strikingly beautiful skin. Directions for Use Use this lotion on your baby's body. Massage well.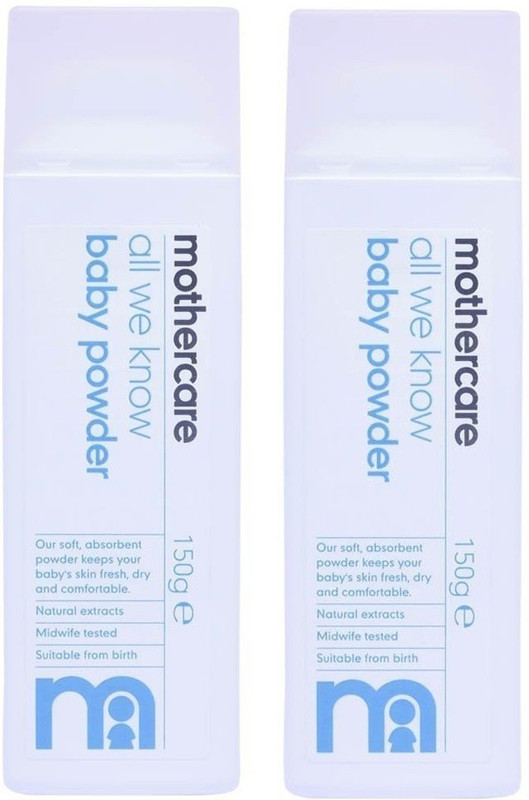 Mothercare All We Know Baby Powder 150g, X 2 300g(2 x 150 g)
as of February 19, 2020 3:31 pm
Highlights
Ideal For: Baby Boys & Baby Girls
Specifications
In the Box
Pack of
2
Talcum Traits
Brand
Mothercare
Model Name
All We Know Baby Powder 150g, X 2 300g
Quantity
300 g
Ideal For
Baby Boys & Baby Girls
Organic
Yes
Mothercare All We Know Baby Talc is a lightweight formulation that makes your baby's skin feel more comfortable. It creates a smooth layer that absorbs wetness and helps reduce the effect of chafing. Features: Keeps skin fresh, dry and comfortable Made using natural extracts Suitable for newborns Hypoallergenic and dermatologically tested Additional Information: Mothercare is world's biggest and most trusted retail specialist in newborn and parenting products. A British retailer born almost 50 years ago out of an idea to provide parents and parents-to-be with the best quality and most innovative products for their children under one roof, today Mothercare's extensive product range offers products right from maternity and children's clothing to furniture and home furnishings, bedding, feeding, bathing, travel equipment, toys and much more.
Join Our NEW Telegram Channel and WIN PAYTM CASH FREE-Join Now