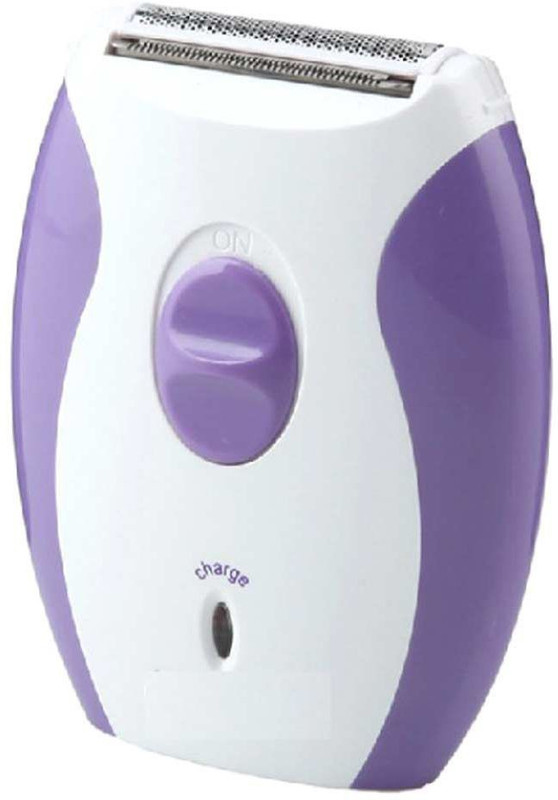 Maxel 2001 bikini Runtime: 30 min Trimmer for Women(Multicolor)
Rs. 1,395
Rs.

349
in stock
as of February 16, 2020 10:30 pm
Highlights
Blade Material: Stainless Steel
Trimming Range: 0.5 - 10 mm
30 min battery run time
4 length settings
Gender: Women
For Bikini Area, Body Grooming
Specifications
In The Box
1 trimmer
General
Brand
Maxel
Model Number
2001 bikini
Type
Cordless
Blade Material
Stainless Steel
Body Material
Plastic
Color
Multicolor
Trimming Range
0.5 - 10 mm
Water Resistant
Yes
Washable Head
Yes
Features
Rechargeable
Suitable For
Bikini Area, Body Grooming
Length Adjustments
4
Power Features
Power Source
charging
Power Consumption
1.2 W
Battery Run Time
30 min
Dimensional Features
Width
13 cm
Height
15 cm
Weight
0.3 g
Warranty
Warranty Summary
6 months
Service Type
manufacturing warranty
Covered in Warranty
manufacturing defects
Not Covered in Warranty
physical damage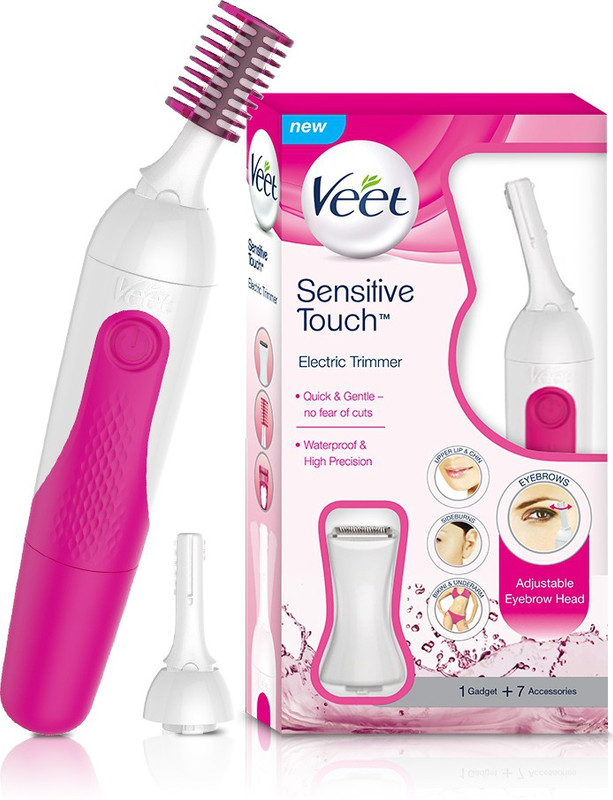 Veet Sensitive Touch Expert Runtime: 45 min Trimmer for Women(White, Pink)
Rs. 2,250
Rs.

1,439
in stock
as of February 16, 2020 10:30 pm
Highlights
Blade Material: Titanium Coated
Trimming Range: 1 - 10 mm
45 min battery run time
4 length settings
Gender: Women
For Bikini Area, Nose, Ear & Eyebrow
Specifications
In The Box
2 Sided Trimming Head (16 mm & 6 mm), 1 N Combo (2 mm & 4 mm), 1 N Styer Cap, 1 N Sided Trimming Head (20 mm), Comb Attachment, A Cleaning Brush, 1N Beauty Pouch
General
Brand
Veet
Model Number
Sensitive Touch Expert
Type
Cordless
Blade Material
Titanium Coated
Body Material
Rubber, Stainless Steel, Plastic
Color
White, Pink
Trimming Range
1 - 10 mm
Water Resistant
Yes
Washable Head
Yes
Features
Adjustable Trimming Range, Easy to Clean, Detachable Head
Suitable For
Bikini Area, Nose, Ear & Eyebrow
Length Adjustments
4
Power Features
Power Source
Battery Operated
Power Consumption
35 W
Battery Type
AA
Number of Batteries
1
Batteries Included
Yes
Battery Run Time
45 min
Dimensional Features
Width
10 cm
Height
22 cm
Weight
0.35 g
Warranty
Warranty Summary
No warranty
Covered in Warranty
NA
Hair on the arms and legs are sort of easy to take care of, but how does one take care of sensitive areas such as the bikini line, the underarms, the lips, and eyebrows without putting oneself through physical torture? Meet the Veet Sensitive Touch Expert Cordless Trimmer for Women. It is specially designed to be used in sensitive areas. The best part is that it can be used both wet and dry. This grooming kit also comes with several accessories for specific jobs like shaping eyebrows or gently removing hair in your private area.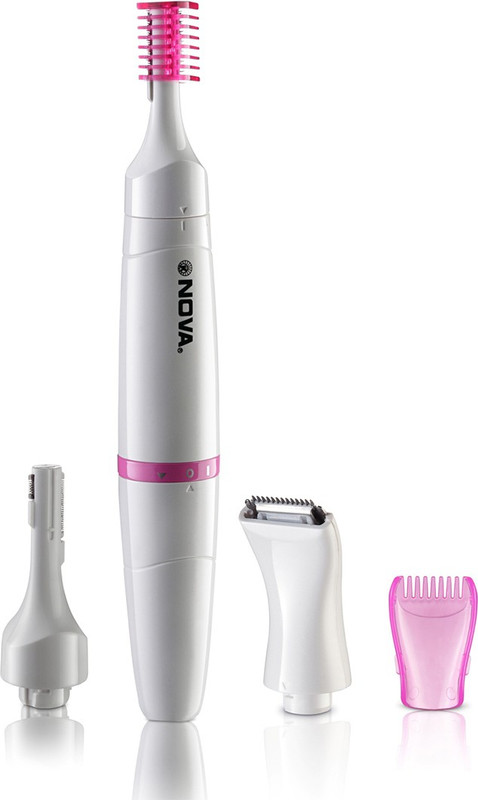 Nova NLS 530 Sensi-Trim Touch Runtime: 45 min Trimmer for Women(White)
Rs. 1,295
Rs.

799
in stock
as of February 16, 2020 10:30 pm
Highlights
Blade Material: Stainless Steel
Trimming Range: 0.5 - 10 mm
45 min battery run time
4 length settings
Gender: Women
For Bikini Area, Nose, Ear & Eyebrow, Body Grooming
Specifications
In The Box
1 Main unit, 1 Eyebrow head, 1 Trimmer Head, 1 Battery, 1 Cleaning Brush
General
Brand
Nova
Model Number
NLS 530 Sensi-Trim Touch
Type
Cordless
Blade Material
Stainless Steel
Body Material
Plastic
Color
White
Trimming Range
0.5 - 10 mm
Water Resistant
Yes
Washable Head
Yes
Features
Adjustable Trimming Range, Easy to Clean, Detachable Head, Non-Allergic
Suitable For
Bikini Area, Nose, Ear & Eyebrow, Body Grooming
Length Adjustments
4
Power Features
Power Requirement
1.5V
Power Source
Battery Operated
Power Consumption
3 W
Battery Type
Alkaline Battery
Number of Batteries
1
Batteries Included
Yes
Battery Run Time
45 min
Dimensional Features
Width
4.2 cm
Height
18.2 cm
Warranty
Warranty Summary
1 Years Limited Domestic Brand Warranty
Service Type
For Warranty Claims or any Product Related Issues, Please Email at customercare@novamarketing.in or Call 080-41615050
Covered in Warranty
1) Warranty is non-transferrable, valid only in the territory of India and extended only to the first end user customer (Customer). 2) Warranty will be valid only when the original purchase invoice is presented at the time of service. 3) Warranty will cover only functional parts and software issues having manufacturing defects and does not cover damages resulting from un-authorised adaptations/ adjustments/ tampering of the product, improper installation of the product, normal wear and tear caused due to use of product.
Not Covered in Warranty
1) Warranty does not cover damage caused to the product due to improper installation by customer; normal wear and tear caused due to use of product. 2) Warranty does not cover any external accessories to the product (such as battery, cable, carrying bag etc.) 3) All plastic, rubber, glass, or aesthetic parts and consumable replacements will be on a chargeable basis. 4) All transportation & handling expenses incurred while replacing or repairing will be payable by the Customer. 5) Warranty shall be voids if: a) The type or serial no. on the product has been altered, removed or defaced. b) The product is not operated as per the instructions given in the User Guide, if any.
This Nova Trimmer comes with multiple attachments like 1. eyebrow attachment- useful for trimming eyebrows and upper lips 2. Trimmer attachment - Useful for trimming and removing unwanted hair under the arms and bikini line. It also comes with add on Feature which is 100 % Water proof which gives power and precision to trim, shape and shave even under the shower . So now you can trim and shape your bikini line evenly with advanced dual precision Trimmer and combs . You can also define your precise line ,edges and contours with detail shaver.

Nova NHT 1093 Rechargeable Sensi - Trim Touch Runtime: 60 min Trimmer for Women(Black)
Rs. 1,695
Rs.

995
in stock
as of February 16, 2020 10:30 pm
Highlights
Blade Material: Stainless Steel
Trimming Range: 0.5 - 5 mm
60 min battery run time
4 length settings
Gender: Women
For Bikini Area, Body Grooming
Specifications
In The Box
main unit, 3 clips, usb charger, brush, lubricating oil, pouch, instructiona manual
General
Brand
Nova
Model Number
NHT 1093 Rechargeable Sensi - Trim Touch
Type
Cordless
Blade Material
Stainless Steel
Body Material
Plastic
Color
Black
Trimming Range
0.5 - 5 mm
Water Resistant
Yes
Washable Head
Yes
Features
Adjustable Trimming Range, Rechargeable, Easy to Clean, Non-Allergic
Suitable For
Bikini Area, Body Grooming
Charging Time
60 min
Length Adjustments
4
Power Features
Power Requirement
usb
Power Source
usb charging
Power Consumption
3 W
Battery Type
Li ion
Number of Batteries
1
Batteries Included
Yes
Battery Run Time
60 min
Dimensional Features
Weight
350 g
Warranty
Warranty Summary
2 years warranty
Service Type
customer needs to call 080 4161 5050 or m,ail us on customercare@novamarketing.in
Covered in Warranty
warranty of the product is covered against manufacturing defects
Not Covered in Warranty
breakage and mishandling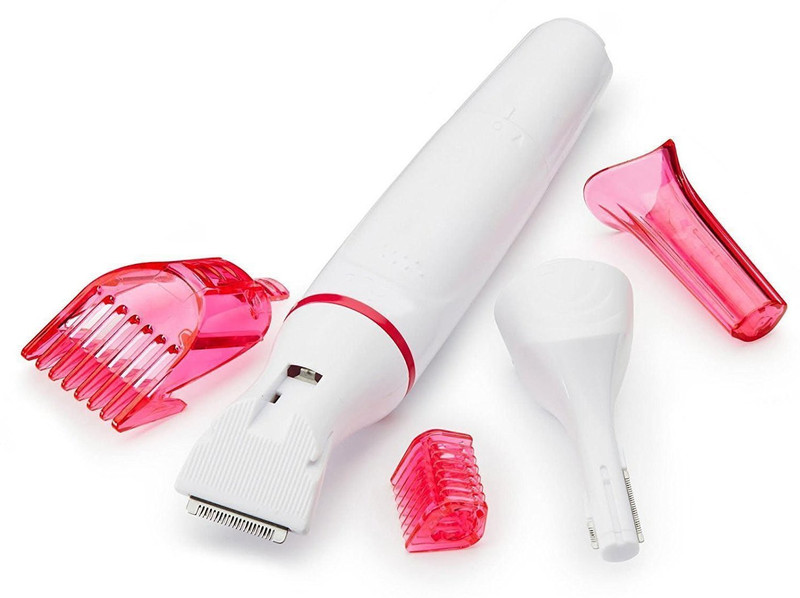 Maxel sweet Runtime: 30 min Trimmer for Women(Multicolor)
Rs. 1,499
Rs.

199
in stock
as of February 16, 2020 10:30 pm
Highlights
Blade Material: Stainless Steel
Trimming Range: 1 - 10 mm
30 min battery run time
4 length settings
Gender: Women
For Bikini Area, Body Grooming, Nose, Ear & Eyebrow
Specifications
In The Box
Trimmer 2 heads
General
Brand
Maxel
Model Number
sweet
Type
Cordless
Blade Material
Stainless Steel
Body Material
Plastic
Color
Multicolor
Trimming Range
1 - 10 mm
Water Resistant
No
Washable Head
Yes
Features
Rechargeable, Detachable Head
Suitable For
Bikini Area, Body Grooming, Nose, Ear & Eyebrow
Length Adjustments
4
Power Features
Power Source
AA battery
Power Consumption
240 W
Battery Run Time
30 min
Dimensional Features
Width
10 cm
Height
15 cm
Weight
200 g
Warranty
Warranty Summary
6 months warranty
Service Type
Manufacturing warranty
Covered in Warranty
Manufacturing defects
Not Covered in Warranty
Physical damages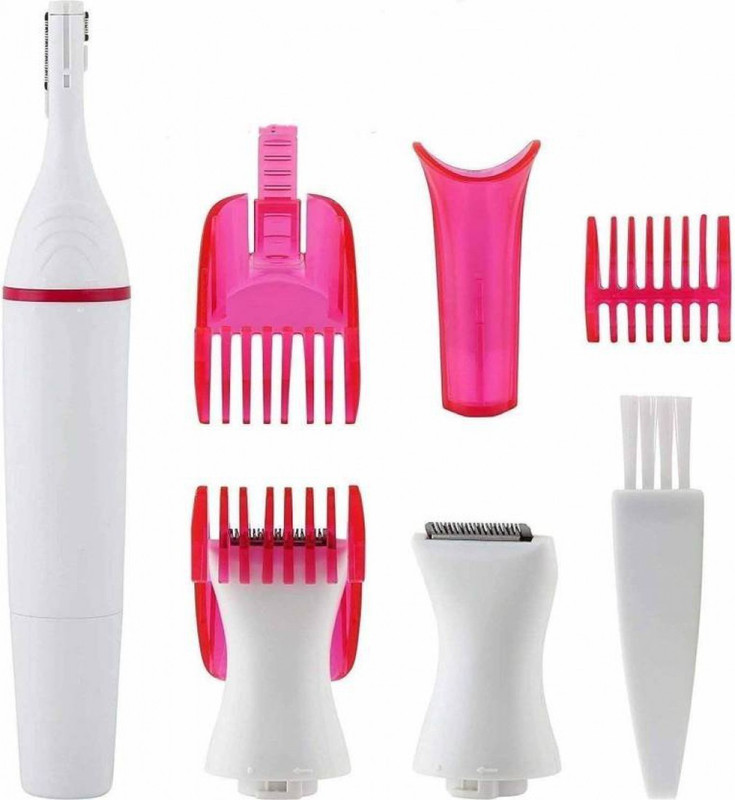 pearls Sweet Shaving Trimmer Style Eyebrow Underarms Hairs bikni for Women Runtime: 30 min Trimmer for Women(Pink)
as of February 16, 2020 10:30 pm
Highlights
Blade Material: Stainless Steel
Trimming Range: 0.5 - 21 mm
30 min battery run time
4 length settings
Gender: Women
For Bikini Area, Body Grooming, Nose, Ear & Eyebrow, Beard & Moustache
Specifications
In The Box
trimmer, 2adjustments, 4heads, 1brush
General
Brand
pearls
Model Number
Sweet Shaving Trimmer Style Eyebrow Underarms Hairs bikni for Women
Type
Cordless
Blade Material
Stainless Steel
Body Material
Plastic
Color
Pink
Trimming Range
0.5 - 21 mm
Water Resistant
No
Washable Head
Yes
Features
Easy to Clean
Suitable For
Bikini Area, Body Grooming, Nose, Ear & Eyebrow, Beard & Moustache
Length Adjustments
4
Power Features
Power Source
1 AA Battery
Battery Type
AA battery
Batteries Included
No
Battery Run Time
30 min
Warranty
Warranty Summary
N/A
Service Type
N/A
Covered in Warranty
N/A
Not Covered in Warranty
N/A
Electric Sweet trimmer Shaving Eyebrow Underarms Hair Remover for womens
Join Our NEW Telegram Channel and WIN PAYTM CASH FREE-Join Now