MarQ by Flipkart 6.5 kg Semi Automatic Top Load White, Blue(MQSAHB65) at Rs. 7499
MarQ by Flipkart 6.5 kg Semi Automatic Top Load White, Blue(MQSAHB65) at Rs. 7499
The MarQ by Flipkart semi-automatic top-load washing machine (6.5 kg, 5-star rating) is an extremely durable and highly energy-efficient washing machine engineered for Indian conditions. Enabled with intelligent wash programs and powered by a 1350 RPM Pulsator motor, it is designed to provide deep detergent penetration for tough stain removal and effective germ elimination, leaving your clothes good as new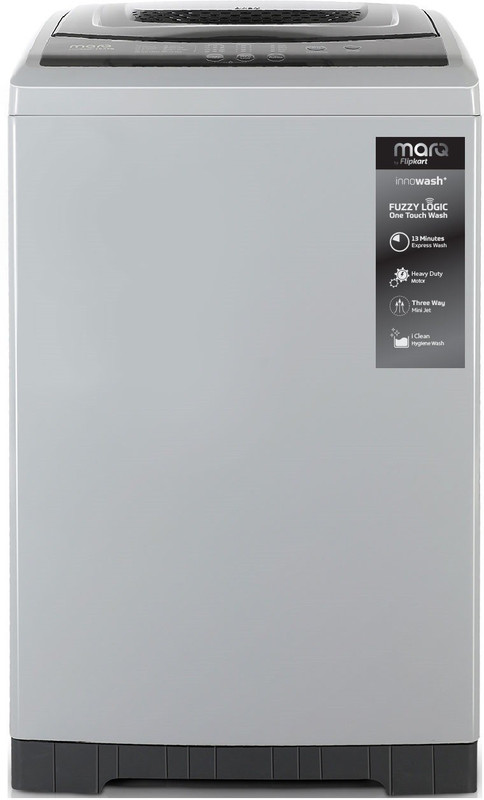 MarQ by Flipkart 6.5 kg with Metal Body Fully Automatic Top Load Grey(MQTLDG65)
Rs. 15,999
Rs.

11,999
in stock
as of February 19, 2020 9:33 am
Highlights
Fully Automatic Top Load
Capacity: 6.5 kg | Max Spin Speed: 700 rpm
Stainless Steel | Pulsator Wash
Digital Display Supported | 8 Wash Programs
Wheel Support | Lint Filter Supported
Specifications
General
In The Box
1 Machine Unit, 1 User Manual, 1 Inlet Pipe, 1 Anti-Rat Panel
Brand
MarQ by Flipkart
Model Name
MQTLDG65
Function Type
Fully Automatic Top Load
Energy Rating
0
Washing Capacity
6.5 kg
Washing Method
Pulsator Wash
Maximum Spin Speed
700 rpm
In-built Heater
No
Color
Grey
Dryer Capacity
6.5 kg
Water Level Selector
Yes
Water Level Settings
8
Shade
Grey
Technology Used
Fuzzy Logic
Installation & Demo
Installation & Demo
Explain all the functionality of the product; Flipkart will facilitate Installation & Demo at time of your convenience from an brand authorized service engineer; Usage of the product; The Installation & Demo service will be provided free of cost. All additional accessories not part of the the package will be charged separately; The authorized service engineer will be providing detailed demo that includes; Preventive maintenance action to be taken; Flipkart will communicate the day and time slot of the scheduled Installation & Demo through a SMS and the same information will also be available in your order details page
Warranty
Warranty Summary
2 Years Comprehensive Warranty and 5 Years Warranty on Motor from MarQ
Covered in Warranty
Warranty is non-transferrable, Valid only in the territory of India and extended only to the first end user customer, Warranty will be valid only when the original purchase invoice is presented at the time of service, Warranty will cover only functional parts and software issues having manufacturing defects and does not cover damages resulting from un-authorised adaptations / adjustments / tampering of the product, improper installation of the product, normal wear and tear caused due to use of product, In case of commercial usage of the product, warranty period will be limited to 90 days only.
Not Covered in Warranty
Warranty does not cover damage caused to the product due to improper installation by customer; normal wear and tear caused due to use of product, Warranty does not cover any external accessories to the product, All plastic, rubber, glass, or aesthetic parts and consumable replacements will be on a chargeable basis, All transportation & handling expenses incurred while replacing or repairing will be payable by the Customer, Warranty shall be voids if - The type or serial number on the product has been altered, removed or defaced, The product is not operated as per the instructions given in the User Guide, if any.
Warranty Service Type
For warranty claims or any product related issues please email at marq@flipkart.com or call 080-46609211
Wash Modes
Wash Program Types
8 - Normal, Jeans, Express, Delicate, Heavy, Mini Wash, Tub Clean, Air Dry
Fuzzy Logic
Yes
Hot Wash
No
Pre-wash Soak
Yes
Quick Wash
Yes
Spin Only
Yes
Spin & Rinse
Yes
Body Features
Outer Body Material
Pre Coated Metallic Sheet
Tub Material
Stainless Steel
Transparent Window Display
Yes
Wheel Support
Yes
Other Body Features
Rust Proof Stainless Steel Tub, Memory Function, Express Wash, Magic Filter, Rear Wheel Support, Silent Wash
Convenience Features
Digital Display
Yes
Tub Self-clean
Yes
Lint Filter
Yes
Memory Backup
Yes
Power Features
Power Requirement
400
Additional Features
Noise Level Wash
62 dB
Noise Level Spin
72 dB
Child Lock
Yes
Shock Proof
Yes
Auto Power Off
Yes
Dimensions
Width
52.5 cm
Height
91 cm
Depth
51.5 cm
Weight
29 kg
Other Dimensions
Gross Weight : 33kg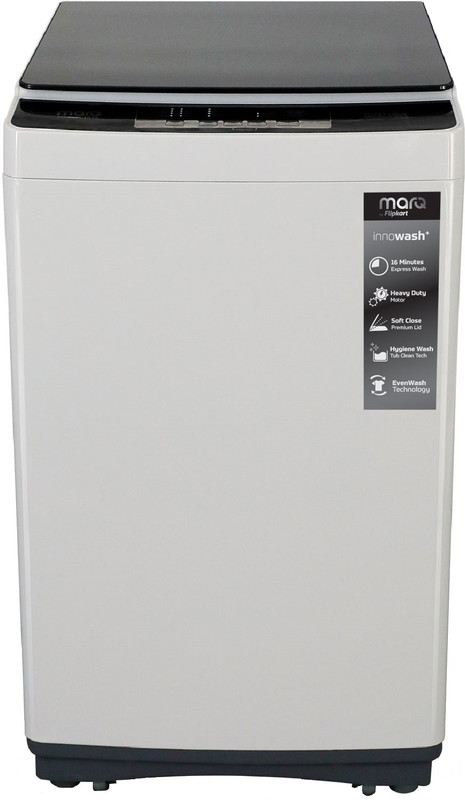 MarQ by Flipkart 8 kg with Delay Start Fully Automatic Top Load Grey(MQTLBG80)
Rs. 21,999
Rs.

14,499
in stock
as of February 19, 2020 9:33 am
Highlights
Fully Automatic Top Load
Capacity: 8 kg | Max Spin Speed: 700 rpm
Stainless Steel | Pulsator Wash
Digital Display Supported | 8 Wash Programs
Wheel Support | Lint Filter Supported
Specifications
General
In The Box
1 Machine Unit, 1 User Manual, 1 Inlet Pipe, 1 Anti-Rat Panel
Brand
MarQ by Flipkart
Model Name
MQTLBG80
Function Type
Fully Automatic Top Load
Energy Rating
0
Washing Capacity
8 kg
Washing Method
Pulsator Wash
Maximum Spin Speed
700 rpm
In-built Heater
No
Color
Grey
Dryer Capacity
8 kg
Water Level Selector
Yes
Water Level Settings
4
Shade
Grey
Technology Used
Fuzzy Logic
Installation & Demo
Installation & Demo
Explain all the functionality of the product; Flipkart will facilitate Installation & Demo at time of your convenience from an brand authorized service engineer; Usage of the product; The Installation & Demo service will be provided free of cost. All additional accessories not part of the the package will be charged separately; The authorized service engineer will be providing detailed demo that includes; Preventive maintenance action to be taken; Flipkart will communicate the day and time slot of the scheduled Installation & Demo through a SMS and the same information will also be available in your order details page
Warranty
Warranty Summary
2 Years Comprehensive Warranty and 5 Years Warranty on Motor from MarQ
Covered in Warranty
Warranty is non-transferrable, Valid only in the territory of India and extended only to the first end user customer, Warranty will be valid only when the original purchase invoice is presented at the time of service, Warranty will cover only functional parts and software issues having manufacturing defects and does not cover damages resulting from un-authorised adaptations / adjustments / tampering of the product, improper installation of the product, normal wear and tear caused due to use of product, In case of commercial usage of the product, warranty period will be limited to 90 days only.
Not Covered in Warranty
Warranty does not cover damage caused to the product due to improper installation by customer; normal wear and tear caused due to use of product, Warranty does not cover any external accessories to the product, All plastic, rubber, glass, or aesthetic parts and consumable replacements will be on a chargeable basis, All transportation & handling expenses incurred while replacing or repairing will be payable by the Customer, Warranty shall be voids if - The type or serial number on the product has been altered, removed or defaced, The product is not operated as per the instructions given in the User Guide, if any.
Warranty Service Type
For warranty claims or any product related issues please email at marq@flipkart.com or call 080-46609211
Wash Modes
Wash Program Types
8 - Standard, Heavy, Gentle, Express, Soak, Wash, Rinse, Spin
Fuzzy Logic
Yes
Hot Wash
No
Pre-wash Soak
Yes
Quick Wash
Yes
Spin Only
Yes
Spin & Rinse
Yes
Body Features
Outer Body Material
Pre Coated Metallic Sheet
Tub Material
Stainless Steel
Wheel Support
Yes
Other Body Features
Rust Proof Stainless Steel Tub, Memory Function, Express Wash, Magic Filter, Wheel Support, Delay Wash, Silent Wash
Convenience Features
Digital Display
Yes
Tub Self-clean
Yes
Preset Timer
Yes
Lint Filter
Yes
Memory Backup
Yes
Other Convenience Features
Delay Wash, Child Lock, Tub-clean
Power Features
Power Requirement
450
Additional Features
Noise Level Wash
62 dB
Noise Level Spin
72 dB
Child Lock
Yes
Shock Proof
Yes
Auto Power Off
Yes
Dimensions
Width
53 cm
Height
93.5 cm
Depth
55 cm
Weight
32 kg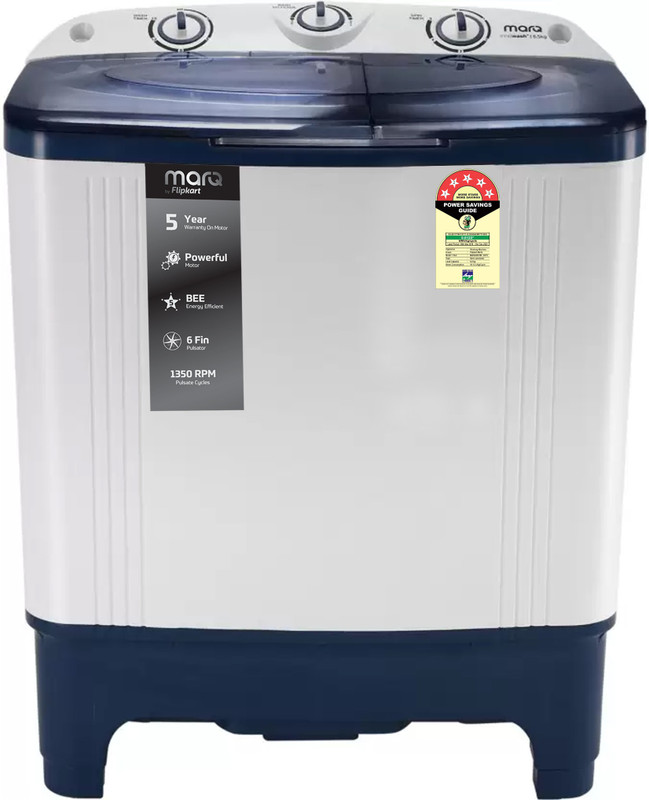 MarQ by Flipkart 6.5 kg 5 Star Rating Semi Automatic Top Load White, Blue(MQSA65H5B)
Rs. 10,490
Rs.

7,199
in stock
as of February 19, 2020 9:33 am
Highlights
Semi Automatic Top Load
5 Star Rating
Capacity: 6.5 kg | Max Spin Speed: 1350 RPM
Polypropylene | Pulsator
2 Wash Programs
Specifications
General
In The Box
1 Machine Unit, 1 User Manual, 1 Inlet Pipe, 1 Spin Dry Safety Lid
Brand
MarQ by Flipkart
Model Name
MQSA65H5B
Function Type
Semi Automatic Top Load
Energy Rating
5
Washing Capacity
6.5 kg
Washing Method
Pulsator
Maximum Spin Speed
1350 RPM
In-built Heater
No
Color
White, Blue
Dryer Type
Spin Dry
Dryer Capacity
4.5 kg
Water Level Selector
Yes
Wash Cycle Duration
15 mins
Spin Cycle Duration
5 mins
Shade
White, Blue
Installation & Demo
Installation & Demo
This product does not require installation. The features of the product are presented in the user manual that comes with it. In case of any queries about the installation or the features of product, kindly call us at 080-46609211 for assistance.
Warranty
Warranty Summary
2 Years Comprehensive and 5 Years on Motor
Covered in Warranty
Warranty is non-transferrable, Valid only in the territory of India and extended only to the first end user customer, Warranty will be valid only when the original purchase invoice is presented at the time of service, Warranty will cover only functional parts and software issues having manufacturing defects and does not cover damages resulting from un-authorised adaptations / adjustments / tampering of the product, improper installation of the product, normal wear and tear caused due to use of product, In case of commercial usage of the product, warranty period will be limited to 90 days only.
Not Covered in Warranty
Warranty does not cover damage caused to the product due to improper installation by customer; normal wear and tear caused due to use of product, Warranty does not cover any external accessories to the product, All plastic, rubber, glass, or aesthetic parts and consumable replacements will be on a chargeable basis, All transportation & handling expenses incurred while replacing or repairing will be payable by the Customer, Warranty shall be voids if - The type or serial number on the product has been altered, removed or defaced, The product is not operated as per the instructions given in the User Guide, if any.
Warranty Service Type
For warranty claims or any product related issues please email at marq@flipkart.com or call 080-46609211
Wash Modes
Wash Program Types
2 - Normal, Gentle
Hot Wash
No
Pre-wash Soak
No
Spin Only
Yes
Body Features
Tub Material
Polypropylene
Transparent Window Display
Yes
Other Body Features
ABS Material Lid, Water Resistant Panel
Convenience Features
Digital Display
No
Memory Backup
No
Power Features
Power Requirement
350
Wash Motor Rating
135 W
Spin Motor Rating
45 W
Additional Features
Noise Level Wash
65 dB
Shock Proof
Yes
Dimensions
Width
74.5 cm
Height
90.5 cm
Depth
42.5 cm
Weight
17 kg
The MarQ by Flipkart semi-automatic top-load washing machine (6.5 kg, 5-star rating) is an extremely durable and highly energy-efficient washing machine engineered for Indian conditions. Enabled with intelligent wash programs and powered by a 1350 RPM Pulsator motor, it is designed to provide deep detergent penetration for tough stain removal and effective germ elimination, leaving your clothes good as new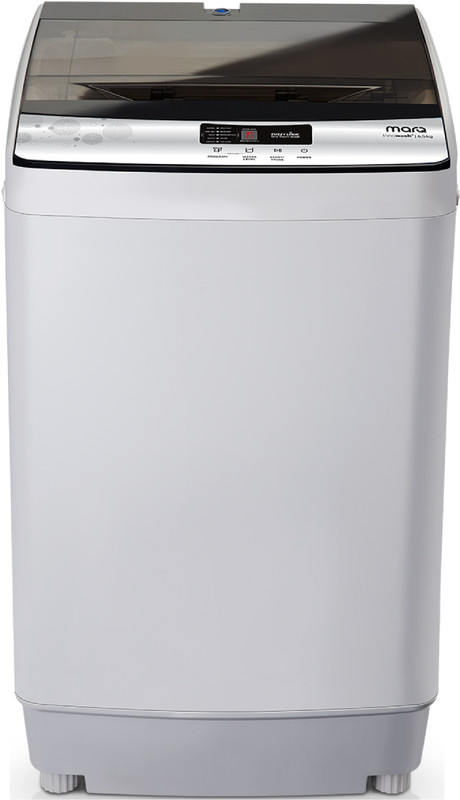 MarQ by Flipkart 6.5 kg with Twin Shower Technology Fully Automatic Top Load Grey(MQTLD65W)
Rs. 15,499
Rs.

10,999
in stock
as of February 19, 2020 9:33 am
Highlights
Fully Automatic Top Load
Capacity: 6.5 kg | Max Spin Speed: 700 rpm
Stainless Steel | Pulsator Wash
Digital Display Supported | 10 Wash Programs
Wheel Support | Lint Filter Supported
Specifications
General
In The Box
Rat Mesh; User Manual; Inlet Pipe; Drain Pipe; 1 Washing Machine
Brand
MarQ by Flipkart
Model Name
MQTLD65W
Function Type
Fully Automatic Top Load
Washing Capacity
6.5 kg
Washing Method
Pulsator Wash
Maximum Spin Speed
700 rpm
In-built Heater
No
Color
Grey
Dryer Capacity
6.5 kg
Water Level Selector
Yes
Water Level Settings
10
Shade
Light Grey
Technology Used
Fuzzy Logic
Installation & Demo
Installation & Demo
Explain all the functionality of the product; Flipkart will facilitate Installation & Demo at time of your convenience from an brand authorized service engineer; Usage of the product; The Installation & Demo service will be provided free of cost. All additional accessories not part of the the package will be charged separately; The authorized service engineer will be providing detailed demo that includes; Preventive maintenance action to be taken; Flipkart will communicate the day and time slot of the scheduled Installation & Demo through a SMS and the same information will also be available in your order details page
Warranty
Warranty Summary
2 Years Comprehensive Warranty and 5 Years Warranty on Motor from MarQ
Covered in Warranty
Warranty is Non-transferrable, Valid Only in the Territory of India and Extended Only to the First End User Customer, Warranty Will Be Valid Only When The Original Purchase Invoice Is Presented at The Time of Service, Warranty Will Cover Only Functional Parts and Software Issues Having Manufacturing Defects and Does Not Cover Damages Resulting From Un-authorised Adaptations / Adjustments / Tampering of The Product, Improper Installation of The Product, Normal Wear and Tear Caused Due To Use of Product, In Case Of Commercial Usage of the Product, Warranty Period Will Be Limited To 90 Days Only.
Not Covered in Warranty
Warranty Does Not Cover Damage Caused to the Product Due To Improper Installation By Customer; Normal Wear and Tear Caused Due to Use Of Product, Warranty Does Not Cover Any External Accessories To The Product, All Plastic, Rubber, Glass, Or Aesthetic Parts and Consumable Replacements Will Be on a Chargeable Basis, All Transportation & Handling Expenses Incurred While Replacing Or Repairing Will Be Payable By The Customer, Warranty Shall Be Voids If - The Type Or Serial Number On The Product Has Been Altered, Removed Or Defaced, The Product Is Not Operated As Per The Instructions Given In The User Guide, If Any.
Warranty Service Type
Technician Visit
Wash Modes
Wash Program Types
10
Fuzzy Logic
Yes
Hot Wash
No
Pre-wash Soak
Yes
Quick Wash
Yes
Spin Only
Yes
Spin & Rinse
Yes
Other Wash Modes
Normal, Heavy, Gentle, Express, Wash Only, Spin Only, Rinse/Spin, Water Recycle, Air Dry, Tub Clean
Body Features
Outer Body Material
Plastic
Tub Material
Stainless Steel
Transparent Window Display
Yes
Wheel Support
Yes
Other Body Features
Perforated Stainless Steel Tub, Rear Wheel Support, Impact Resistant
Convenience Features
Digital Display
Yes
Tub Self-clean
Yes
Display Features
Process Display, Pause/Start, Power ON/OFF
Preset Timer
Yes
Lint Filter
Yes
Memory Backup
Yes
Power Features
Power Requirement
AC 240 V, 50 Hz
Wash Motor Rating
385 W
Spin Motor Rating
285 W
Additional Features
Noise Level Wash
65 dB
Noise Level Spin
70 dB
Child Lock
Yes
Shock Proof
Yes
Auto Power Off
Yes
Other Features
Express Wash, Magic Filter, Memory Function, Powerful Heavy-Duty Motor, Tub Clean, Silent Wash
Dimensions
Width
56.3 cm
Height
92 cm
Depth
54.7 cm
Weight
29 kg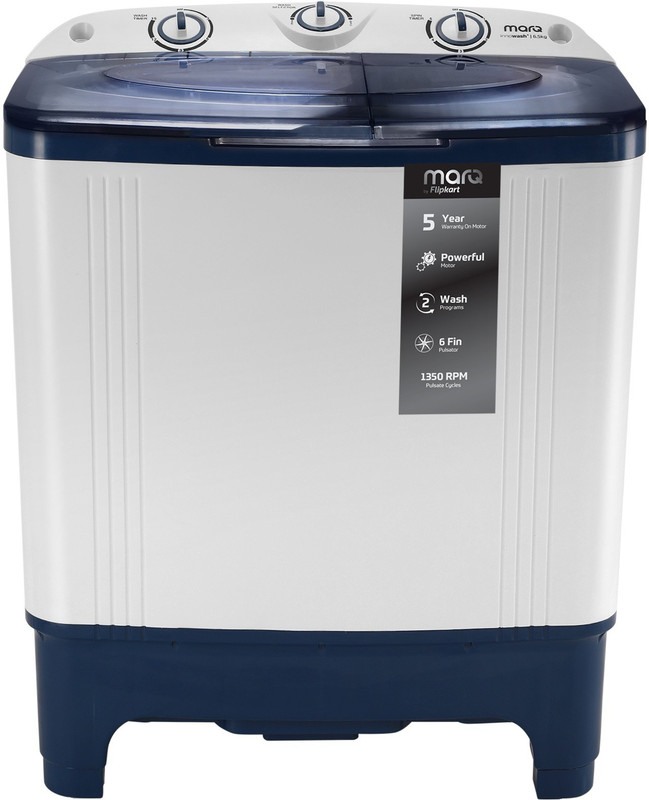 MarQ by Flipkart 6.5 kg Semi Automatic Top Load White, Blue(MQSAHB65)
Rs. 10,490
Rs.

7,499
in stock
as of February 19, 2020 9:33 am
Highlights
Semi Automatic Top Load
Capacity: 6.5 kg | Max Spin Speed: 1350 rpm
Polypropylene | Pulsator Wash
2 Wash Programs
Specifications
General
In The Box
1 Machine Unit, User Manual, Inlet Pipe, Spin Dry Safety Lid
Brand
MarQ by Flipkart
Model Name
MQSAHB65
Function Type
Semi Automatic Top Load
Energy Rating
0
Washing Capacity
6.5 kg
Washing Method
Pulsator Wash
Maximum Spin Speed
1350 rpm
In-built Heater
No
Color
White, Blue
Dryer Type
Spin Dry
Dryer Capacity
4.5 kg
Water Level Selector
Yes
Wash Cycle Duration
15 mins
Spin Cycle Duration
5 mins
Shade
White, Blue
Technology Used
Pulsator Wash
Installation & Demo
Installation & Demo
This product does not require installation. The features of the product are presented in the user manual that comes with it. Hence, the manufacturer does not provide on-site installation or demo for the product. In case of any queries about the installation or the features of product, kindly call us at 1800 208 9898 or (080) 49400000 for assistance.
Warranty
Warranty Summary
2 Years Comprehensive and 5 Years on Motor
Covered in Warranty
Warranty is non-transferrable, Valid only in the territory of India and extended only to the first end user customer, Warranty will be valid only when the original purchase invoice is presented at the time of service, Warranty will cover only functional parts and software issues having manufacturing defects and does not cover damages resulting from un-authorised adaptations / adjustments / tampering of the product, improper installation of the product, normal wear and tear caused due to use of product, In case of commercial usage of the product, warranty period will be limited to 90 days only.
Not Covered in Warranty
Warranty does not cover damage caused to the product due to improper installation by customer; normal wear and tear caused due to use of product, Warranty does not cover any external accessories to the product, All plastic, rubber, glass, or aesthetic parts and consumable replacements will be on a chargeable basis, All transportation & handling expenses incurred while replacing or repairing will be payable by the Customer, Warranty shall be voids if - The type or serial number on the product has been altered, removed or defaced, The product is not operated as per the instructions given in the User Guide, if any.
Warranty Service Type
For warranty claims or any product related issues please email at marq@flipkart.com or call 080-46609211
Wash Modes
Wash Program Types
2 - Normal, Gentle
Hot Wash
No
Pre-wash Soak
No
Spin Only
Yes
Body Features
Tub Material
Polypropylene
Transparent Window Display
Yes
Wheel Support
No
Other Body Features
ABS Material Lid, Water Resistant Panel
Convenience Features
Digital Display
No
Power Features
Power Requirement
350
Wash Motor Rating
135 W
Spin Motor Rating
45 W
Additional Features
Noise Level Wash
65 dB
Noise Level Spin
72 dB
Shock Proof
Yes
Dimensions
Width
74.5 cm
Height
90.5 cm
Depth
42.5 cm
Weight
17 kg
The MarQ by Flipkart 6.5-kg semi-automatic top-load washing machine is an extremely durable and highly efficient washing machine engineered for Indian conditions. Enabled with intelligent wash programs and powered by a 1350 RPM Pulsator motor, it is designed to provide deep detergent penetration for tough stain removal and effective germ elimination, leaving your clothes good as new.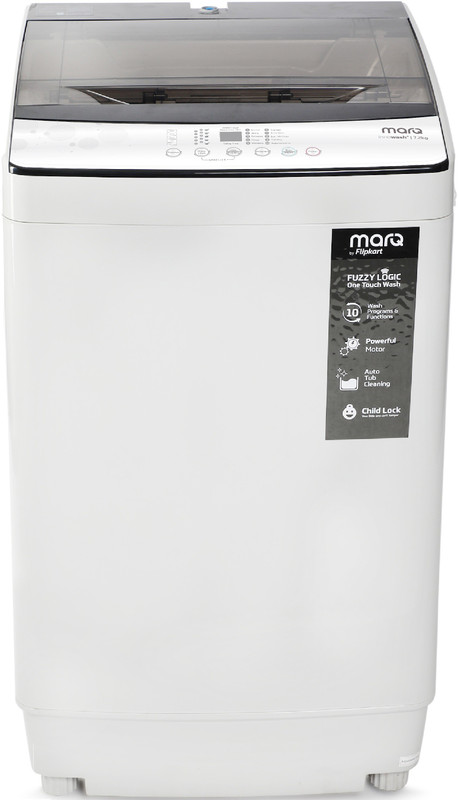 MarQ by Flipkart 7.2 kg with Twin Shower Technology Fully Automatic Top Load White(MQTLDW72)
Rs. 16,999
Rs.

12,499
in stock
as of February 19, 2020 9:33 am
Highlights
Fully Automatic Top Load
Capacity: 7.2 kg | Max Spin Speed: 700 rpm
Stainless Steel | Pulsator Wash
Digital Display Supported | 10 Wash Programs
Wheel Support | Lint Filter Supported
Specifications
General
In The Box
Rat Mesh; User Manual; Inlet Pipe; Drain Pipe; 1 Washing Machine
Brand
MarQ by Flipkart
Model Name
MQTLDW72
Function Type
Fully Automatic Top Load
Energy Rating
0
Washing Capacity
7.2 kg
Washing Method
Pulsator Wash
Maximum Spin Speed
700 rpm
In-built Heater
No
Color
White
Dryer Capacity
7.2 kg
Water Level Selector
Yes
Water Level Settings
10
Shade
White, Grey
Technology Used
Fuzzy Logic
Installation & Demo
Installation & Demo
Explain all the functionality of the product; Flipkart will facilitate Installation & Demo at time of your convenience from an brand authorized service engineer; Usage of the product; The Installation & Demo service will be provided free of cost. All additional accessories not part of the the package will be charged separately; The authorized service engineer will be providing detailed demo that includes; Preventive maintenance action to be taken; Flipkart will communicate the day and time slot of the scheduled Installation & Demo through a SMS and the same information will also be available in your order details page
Warranty
Warranty Summary
2 Years Comprehensive Warranty and 5 Years Warranty on Motor from MarQ
Covered in Warranty
Warranty is Non-transferrable, Valid Only in the Territory of India and Extended Only to the First End User Customer, Warranty Will Be Valid Only When The Original Purchase Invoice Is Presented at The Time of Service, Warranty Will Cover Only Functional Parts and Software Issues Having Manufacturing Defects and Does Not Cover Damages Resulting From Un-authorised Adaptations / Adjustments / Tampering of The Product, Improper Installation of The Product, Normal Wear and Tear Caused Due To Use of Product, In Case Of Commercial Usage of the Product, Warranty Period Will Be Limited To 90 Days Only.
Not Covered in Warranty
Warranty Does Not Cover Damage Caused to the Product Due To Improper Installation By Customer; Normal Wear and Tear Caused Due to Use Of Product, Warranty Does Not Cover Any External Accessories To The Product, All Plastic, Rubber, Glass, Or Aesthetic Parts and Consumable Replacements Will Be on a Chargeable Basis, All Transportation & Handling Expenses Incurred While Replacing Or Repairing Will Be Payable By The Customer, Warranty Shall Be Voids If - The Type Or Serial Number On The Product Has Been Altered, Removed Or Defaced, The Product Is Not Operated As Per The Instructions Given In The User Guide, If Any.
Warranty Service Type
Technician Visit
Wash Modes
Wash Program Types
10
Fuzzy Logic
Yes
Hot Wash
No
Pre-wash Soak
Yes
Quick Wash
Yes
Spin Only
Yes
Spin & Rinse
Yes
Other Wash Modes
Normal, Jeans, Delicates, Mixed, Woolens, Express, Baby Wear, Tub Dry, Aqua Conserve, Eco Tub Clean
Body Features
Outer Body Material
Plastic
Tub Material
Stainless Steel
Transparent Window Display
Yes
Wheel Support
Yes
Other Body Features
Perforated Stainless Steel Tub, Rear Wheel Support, Impact Resistant
Convenience Features
Digital Display
Yes
Tub Self-clean
Yes
Display Features
Process Display, Pause/Start, Power ON/OFF
Preset Timer
Yes
Lint Filter
Yes
Memory Backup
Yes
Power Features
Power Requirement
AC 240 V, 50 Hz
Wash Motor Rating
385 W
Spin Motor Rating
285 W
Additional Features
Noise Level Wash
65 dB
Noise Level Spin
70 dB
Child Lock
Yes
Shock Proof
Yes
Auto Power Off
Yes
Other Features
Express Wash, Magic Filter, Memory Function, Powerful Heavy-Duty Motor, Eco Tub Clean, Silent Wash
Dimensions
Width
56.3 cm
Height
92 cm
Depth
54.7 cm
Weight
29 kg
Meet the MarQ fully-automatic washing machine - the durable and hassle-free washing machine, designed keeping the Indian weather conditions and types of usage in mind. Packed with features like Fuzzy Logic, 10 Wash Programs, Eco Tub Cleaning and a powerful heavy-duty motor, this washing machine ensures clean and fresh clothes after every wash, putting an end to all your laundry woes.
Join Our NEW Telegram Channel and WIN PAYTM CASH FREE-Join Now