Last update was on: March 25, 2020 10:51 am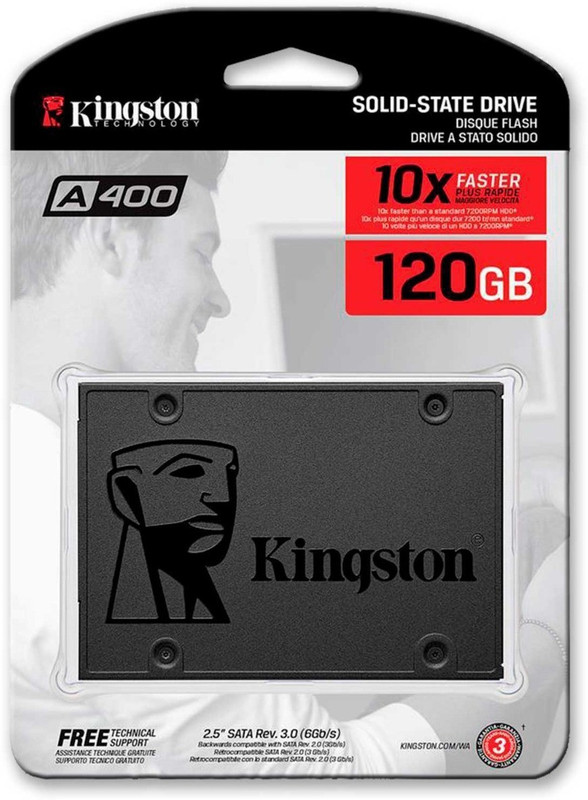 Kingston A400 120 GB Desktop, Laptop, All in One PC's, Servers Internal Solid State Drive (SA400S37/120G)
Rs. 3,500
Rs.

2,599
in stock
as of March 25, 2020 10:51 am
Highlights
Type: SSD
Interface: SATA
Form Factor: 2.5 Inch
Capacity: 120 GB
Desktop, Laptop, All in One PC's, Servers
Specifications
In The Box
Sales Package
KINGSTON A400 120GB SSD
General
Brand
Kingston
Model ID
SA400S37/120G
Series
A400
Drive Configuration
Device
Desktop, Laptop, All in One PC's, Servers
Device Type
2.5 Inch SSD
Drive Capacity
120 GB
Interface
SATA
Form Factor
2.5 Inch
Dimensions
Weight
0.25 g
Warranty
Warranty Type
REPLACEMENT
Covered in Warranty
MANUFACTURING DEFECT
Not Covered in Warranty
PHYSICAL DAMAGE AND BURNT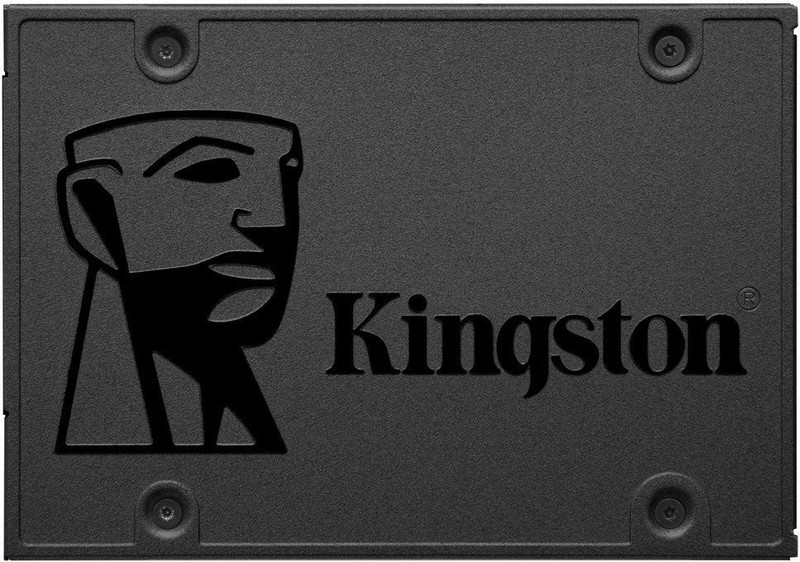 Kingston A400 960 GB Laptop, Desktop Internal Solid State Drive (SA400S37/960GIN)
Rs. 11,322
Rs.

10,099
in stock
as of March 25, 2020 10:51 am
Highlights
Type: SSD
Interface: SATA III
Form Factor: 2.5 Inch
Capacity: 960 GB
Laptop, Desktop
Specifications
In The Box
Sales Package
1 SSD
General
Brand
Kingston
Model ID
SA400S37/960GIN
Series
A400
Drive Configuration
Device
Laptop, Desktop
Device Type
2.5 Inch SSD
Drive Capacity
960 GB
Interface
SATA III
Form Factor
2.5 Inch
Operating Conditions
Operating Temperature
0DegreeC to 70DegreeC
Dimensions
Weight
41 g
Warranty
Warranty Summary
3 Years Warranty on Functional Issues
Covered in Warranty
Functional Issues
Not Covered in Warranty
Wear and Tear, Physical Damages
Service Type
Bring the Product at Service Centre
Kingston A400 120 GB Laptop, Desktop Internal Solid State Drive (SA400S37/120G)
Rs. 3,500
Rs.

1,999
in stock
as of March 25, 2020 10:51 am
Highlights
Type: SSD
Interface: SATA III
Form Factor: 2.5 Inch
Capacity: 120 GB
Laptop, Desktop
Specifications
In The Box
Sales Package
1 Internal Hard Drive
General
Brand
Kingston
Model ID
SA400S37/120G
Series
A400
Drive Configuration
Device
Laptop, Desktop
Device Type
2.5 Inch SSD
Drive Capacity
120 GB
Interface
SATA III
Form Factor
2.5 Inch
Operating Conditions
Operating Temperature
0DegreeC to 70DegreeC
Other Features
Controller: 2 Channel, Power Consumption - Idle: 0.195 W, Avg: 0.279 W, Read: 0.642 W (Max), Write: 1.535 W (Max), Dimensions: 100.0 x 69.9 x 7.0 mm, Vibration Non-operating 20 G Peak (10 - 2000 Hz), Total Bytes Written: 40 TB, Fast Start-up, Loading and File Transfers, Data Transfer (ATTO): Up to 500 MB/s Read and 320 MB/s Write
Dimensions
Weight
41 g
Warranty
Warranty Summary
Limited 3 Years Warranty
Kingston A400 240 GB Laptop, Desktop Internal Solid State Drive (SA400S37/240G)
Rs. 5,800
Rs.

2,799
in stock
as of March 25, 2020 10:51 am
Highlights
Type: SSD
Interface: SATA III
Form Factor: 2.5 Inch
Capacity: 240 GB
Laptop, Desktop
Specifications
In The Box
Sales Package
1 Internal Hard Drive
General
Brand
Kingston
Model ID
SA400S37/240G
Series
A400
Drive Configuration
Device
Laptop, Desktop
Device Type
2.5 Inch SSD
Drive Capacity
240 GB
Interface
SATA III
Form Factor
2.5 Inch
Operating Conditions
Operating Temperature
0DegreeC to 70DegreeC
Other Features
Controller: 2 Channel, Power Consumption - Idle: 0.195 W, Avg: 0.279 W, Read: 0.642 W (Max), Write: 1.535 W (Max), Dimensions: 100.0 x 69.9 x 7.0 mm, Vibration Non-operating 20 G Peak (10 - 2000 Hz), Total Bytes Written: 80 TB, Built with Flash Memory, Data Transfer (ATTO): Up to 500 MB/s Read and 350 MB/s Write
Dimensions
Weight
41 g
Warranty
Warranty Summary
Limited 3 Years Warranty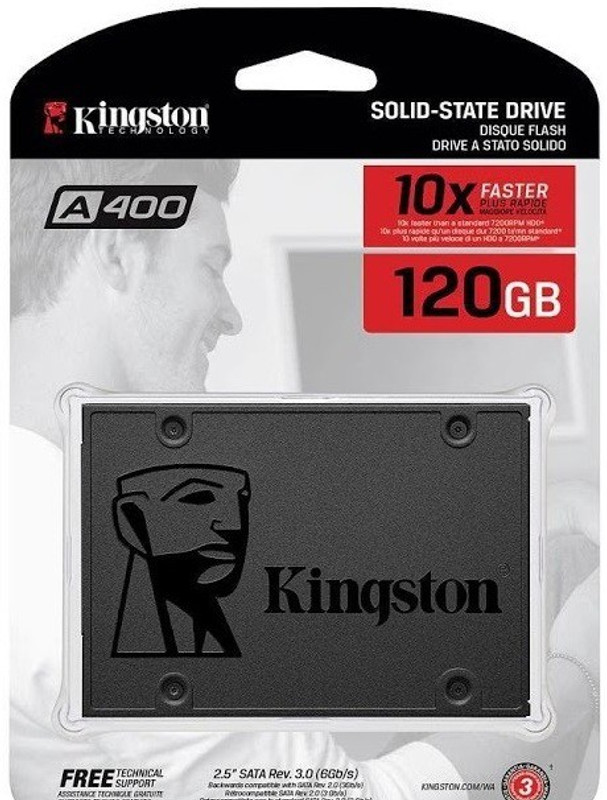 Velentron Kingston A400 120 GB Laptop, Desktop Internal Solid State Drive (SA400S37/120G)
Rs. 3,500
Rs.

2,599
in stock
as of March 25, 2020 10:51 am
Highlights
Type: SSD
Interface: SATA III
Form Factor: 2.5 Inch
Capacity: 120 GB
Laptop, Desktop
Specifications
In The Box
Sales Package
1 Internal Hard Drive
General
Brand
Velentron
Model ID
SA400S37/120G
Series
Kingston A400
Drive Configuration
Device
Laptop, Desktop
Device Type
2.5 Inch SSD
Drive Capacity
120 GB
Interface
SATA III
Form Factor
2.5 Inch
Warranty
Warranty Summary
Limited 3 Years Warranty
Covered in Warranty
Manufacturing Defect
Not Covered in Warranty
Physical damage & burnt
Service Type
Carry in
Domestic Term
3
Improve the responsiveness of your system by loading it with the Kingston A400 solid-state drive (120 GB). It is built with Flash memory and it has no moving parts, thereby making it more durable. It is also Shock and Vibration-resistant.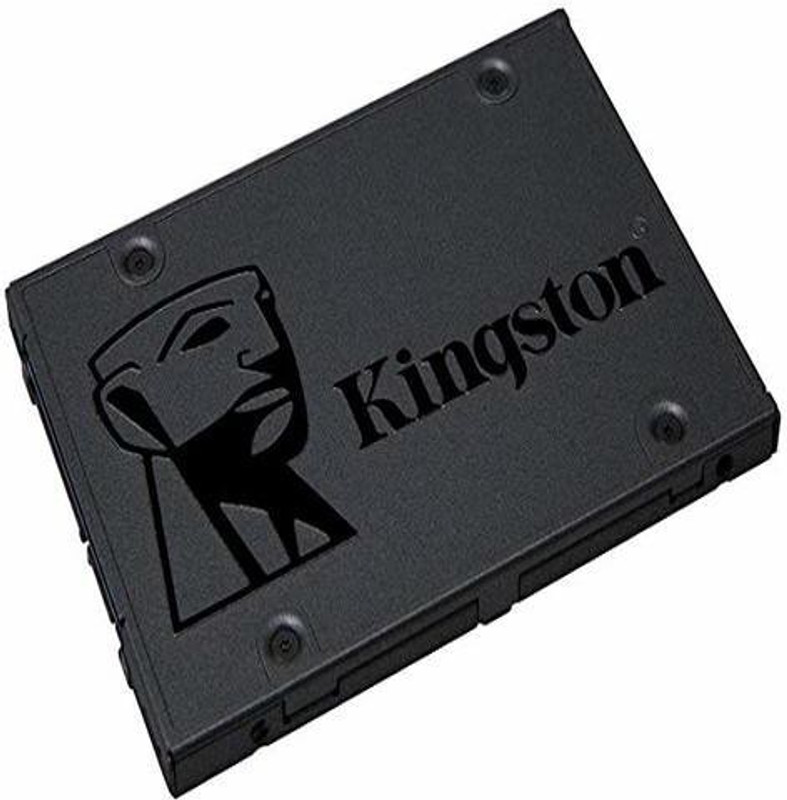 Kingston 400 240 GB Laptop, All in One PC's, Desktop Internal Solid State Drive (240)
Rs. 5,800
Rs.

3,650
in stock
as of March 25, 2020 10:51 am
Highlights
Type: SSD
Interface: SATA III
Form Factor: 2.5 Inch
Capacity: 240 GB
Laptop, All in One PC's, Desktop
Specifications
In The Box
Sales Package
1 SSD Drive
General
Brand
Kingston
Model ID
240
Series
400
Drive Configuration
Device
Laptop, All in One PC's, Desktop
Device Type
2.5 Inch SSD
Drive Capacity
240 GB
Interface
SATA III
Form Factor
2.5 Inch
Warranty
Warranty Summary
03 Years Manufacturer Warranty
Covered in Warranty
Warranty of the product is limited to manufacturing defects only
Not Covered in Warranty
Physical damage, water damage, Missing Parts
Domestic Term
03 Years Manufacturer Warranty
Kingston's A400 solid-state drive dramatically improves the responsiveness of your existing system with incredible boot, loading and transfer times compared to mechanical hard drives. Powered by a latest-gen controller for read and write speeds of up to 500MB/s and 450MB/s1, this SSD is 10x faster than a traditional hard drive1 for higher performance, ultra-responsive multi-tasking and an overall faster system. Also more reliable and durable than a hard drive, A400 is available in multiple drive form factors and capacities from 120GB–960GB2.
Join Our NEW Telegram Channel and WIN PAYTM CASH FREE-Join Now