Durex Condoms – 10 Count (Pack of 3, Extra Time)
ULTRA THIN FOR HIGH SENSITIVITY: For a deep connection and real intense contact whilst maintaining the same level of security and protection, Durex Air condoms can make all the difference
10 LUBRICATED AND STRAIGHT WALLED CONDOMS: Transparent, natural latex condoms shaped with a teat end to be easier to put on and provide a better fit during sex
SIZE: All condoms have a length of 180mm and a width of 53mm
DISCREET DELIVERY: Condom box delivered in discreet packaging with no indication of parcel contents
DUREX QUALITY: With over 90 years of experience manufacturing condoms, Durex is the world's No.1 brand. All our condoms use only fine quality raw materials and every single one is electronically tested for holes and imperfections.
Using condoms and lubricants together is safe. Condoms are already lubricated, both from the inside as well as from the outside. So using a lubricant with a condom simply adds to the smoothness of the process. In addition, we recommend that you invest in a proper lubricant. Using home formulas such as petroleum jelly or baby oil weakens latex and its use should be avoided.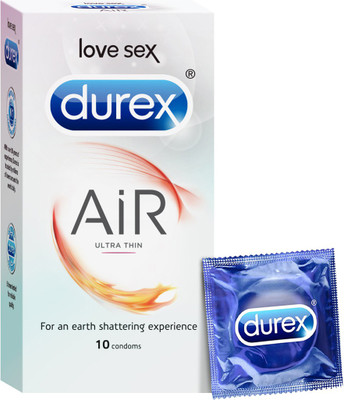 DUREX Ultra Thin Condoms - Air Condom(10 Sheets)
as of April 5, 2022 9:02 pm
Highlights
Premium, Premium & Ultra Thin Condom
Regular Flavor
Ideal For: Men
Size: XL
Made of: Natural Latex Rubber
Specifications
General
Important Note
Do not use this product for anything other than its intended purpose. If used otherwise, the responsibility lies with the user.
Flavor
Regular
Type
Premium, Premium & Ultra Thin
Product Type
Single Product
Number of Contents in Sales Package
10
Country of Origin
India
The Durex Air condoms take on two of your biggest quests, complete intimacy and total protection. They are durable and are tested to withstand breakage. Greater Sensitivity and Intimacy These ultra-thin condoms fit like second skin, so you and your partner can enjoy a heightened sense of intimacy. The straight-walled fit of these condoms heightens sensitivity. Protection Guaranteed Each condom in this pack is dermatologically tested to ensure complete protection. Made of premium-quality latex, they are durable enough to withstand passionate sessions. Lubricated for Your Pleasure It's easy to be fully present during intimate moments with your partner because these condoms have a pleasant scent, so you aren't distracted. The condoms also ease friction, which is a good thing, both for you and your partner. How to Use Handle these condoms with clean hands. First, ensure that the teat is facing up. Squeeze it to ensure that there's no air inside. While still squeezing the teat, place the condom on yourself and roll it all the way down to the base. To dispose it, hold the condom at the base as you pull out. Knot it and then discard it.
Join Our NEW Telegram Channel and WIN PAYTM CASH FREE-Join Now