Last update was on: February 24, 2020 10:05 am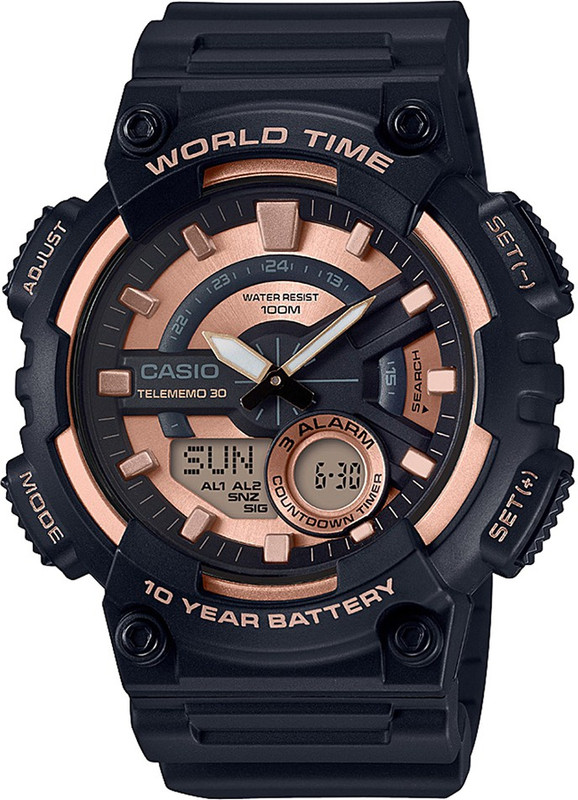 Casio AD222 Youth Combination ( AEQ-110W-1A3VDF ) Analog-Digital Watch - For Men
as of February 21, 2020 1:33 pm
Highlights
Watch Movement: Quartz
Water Resistant (100 m)
Display Type: Analog-Digital
Strap: Black, Resin
Specifications
General
Water Resistant
Yes
Display Type
Analog-Digital
Style Code
AD222
Series
Youth Combination ( AEQ-110W-1A3VDF )
Occasion
Sports
Watch Type
Wrist Watch
Pack of
1
Sales Package
1 Box, 1 Watch, 1 Warranty Card With Serial Number, 1 Warranty Term Sheet, 1 User Manual
Mechanism
Quartz
Model Name
AEQ-110W-1A3VDF
Body Features
Strap Material
Resin Strap
World Time
Yes
Dual Time
Yes
Strap Type
Resin
Case/Bezel Material
Resin
Water Resistance Depth
100
Power Source
Battery Powered
Clasp Type
Buckle
Other Functions
10-YEAR BATTERY LIFE, Resin Glass, Telememo (Memory capacity: Up to 30 sets of data, with 8-character name and16-digit telephone number), World time (Current time in 30 cities (29 time zones), daylight saving on/off), 1/100-second stopwatch, Countdown timer, Regular timekeeping (Analog: 2 hands (hour, minute (hands move every 20 seconds)), Digital: Hour, minute, second, am/pm, month, date, day), Accuracy: ±30 seconds per month
Dial Color
Rose Gold, Black
Dimensions
Width
46.6 mm
Height
52.2 mm
Thickness
16.6 mm
Weight
49 g
Warranty
Domestic Warranty
2 Year
Warranty Service Type
Customer needs to visit the Authorized Service Centre, along with TAX Paid Invoice & duly filled Warranty Card with Serial Number
Youth Combination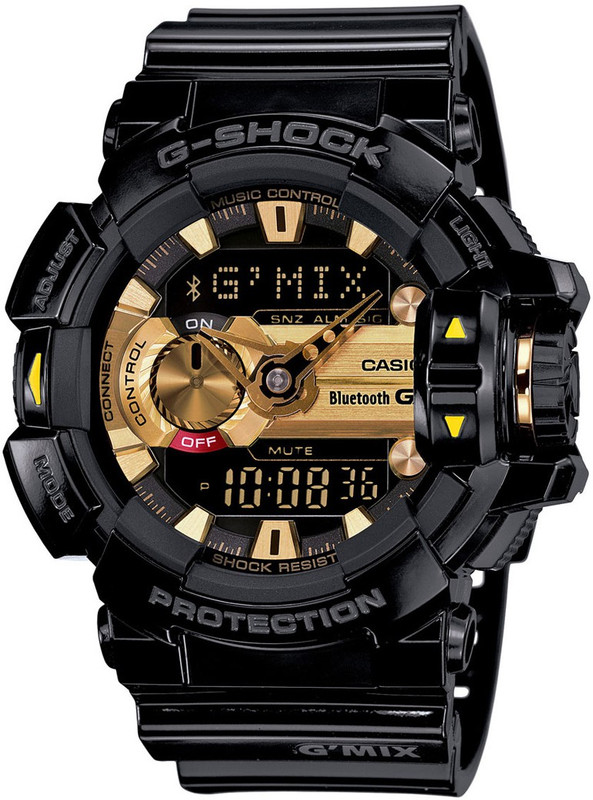 Casio G557 G-Shock ( GBA-400-1A9DR ) Analog-Digital Watch - For Men
as of February 21, 2020 1:33 pm
Highlights
Watch Movement: Quartz
Water Resistant (200 m)
Display Type: Analog-Digital
Strap: Black, Resin
Chronograph
Date Display Available
Specifications
General
Water Resistant
Yes
Display Type
Analog-Digital
Style Code
G557
Series
G-Shock ( GBA-400-1A9DR )
Occasion
Casual
Watch Type
Wrist Watch
Pack of
1
Sales Package
1 Box, 1 Watch, 1 Warranty Card With Serial Number, 1 Warranty Term Sheet, 1 User Manual
Shock Resistance
Yes
Calendar
Yes
Mechanism
Quartz
Model Name
GBA-400-1A9DR
Body Features
Strap Material
Resin Strap
World Time
Yes
Dual Time
Yes
Strap Type
Band
Case/Bezel Material
Resin
Water Resistance Depth
200
Power Source
Battery Powered
Power Reserve Indicator
Yes
Light
Electro-luminescent Supper Illuminator
Date Display
Yes
Clasp Type
Buckle
Alarm Clock
Yes
Other Functions
Airplane mode, Music Control, Rotary crown : Sear song, volume control, Equaliser control, World time:35 time zones (100 cities + coordinated universal time), daylight saving on/off, 1/100-second stopwatch, Measuring capacity: 999:59'59.99'', Full auto-calendar (to year 2099)
Dial Color
Gold
Dimensions
Width
51.9 mm
Height
55 mm
Thickness
18.3 mm
Weight
66 g
Warranty
Domestic Warranty
2
International Warranty
1
Warranty Service Type
Customer needs to visit the Authorized Service Centre, along with TAX Paid Invoice & duly filled warranty card with Serial Number
Take control of your music and arrive in style with Casio's G-Shock G557 Bluetooth Hybrid Men's watch. Its state of the art G-Mix music app powered by Bluetooth syncs perfectly with your phone and lets you play your favorite tunes and keep a check on what's playing without even reaching for your phone. With the smart in-built equalizer, take everybody by surprise by changing your music tone as per the ambiance you walk in to, straight from your watch! The Super Illuminator LED light and a dedicated button on the watch that sounds an alarm on your phone remotely makes sure you do not waste time searching for your phone or watch either. With the GBA-400-1A9DR (G557) Hyrbid Watch,make the most of your music as you travel across approximately 300 cities, staying on top of time, every time.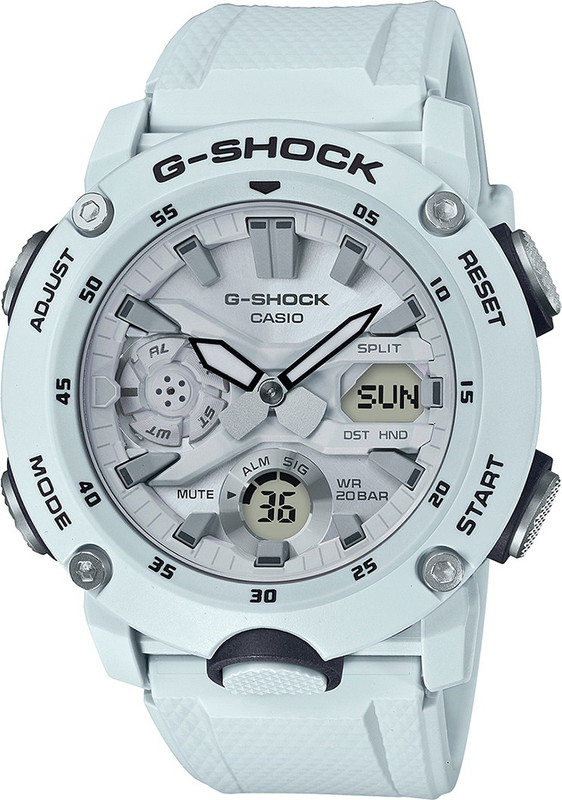 Casio G971 G-Shock ( GA-2000S-7ADR ) Analog-Digital Watch - For Men
as of February 21, 2020 1:33 pm
Highlights
Watch Movement: Quartz
Display Type: Analog-Digital
Strap: Blue, Resin
Specifications
General
Water Resistant
200 m
Display Type
Analog-Digital
Style Code
G971
Series
G-Shock ( GA-2000S-7ADR )
Occasion
Sports
Watch Type
Wrist Watch
Pack of
1
Sales Package
1 Box::1 Watch::1 Warranty Card With Serial Number::1 Warranty Term Sheet::1 User Manual
Shock Resistance
Yes
Mechanism
Quartz
Model Name
GA-2000S-7ADR
Body Features
Strap Material
Resin Strap
World Time
Yes
Dual Time
Yes
Strap Type
Resin
Case/Bezel Material
Carbon::Resin
Water Resistance Depth
200
Power Source
Battery Powered
Power Reserve Indicator
No
Light
Double LED Light
Clasp Type
Buckle
Other Functions
Mineral Glass::Neobrite::Double LED light::World time (31 time zones (48 cities + coordinated universal time), daylight saving on/off, Home city/World time city swapping)::1/100-second stopwatch::Countdown timer::5 daily alarms::Hourly time signal::Hand shift feature (Hands move out of the way to provide an unobstructed view of digital display contents.)::Full auto-calendar (to year 2099)::12/24-hour format::Button operation tone on/off::Regular timekeeping: Analog: 2 hands (hour, minute (hand moves every 20 seconds)), 1 dial (mode), Digital: Hour, minute, second, pm, month, date, day::Accuracy: 15 seconds per month
Dial Color
Blue
Dimensions
Width
48.7 mm
Height
51.2 mm
Thickness
14.1 mm
Weight
64 g
Warranty
Domestic Warranty
2 Year
International Warranty
1 Year
From G-SHOCK, the watch brand that is constantly setting new standards for unmatched timekeeping toughness, comes a new series of GA-2000 timepieces that are destined to become the next-generation standard of the G-SHOCK world.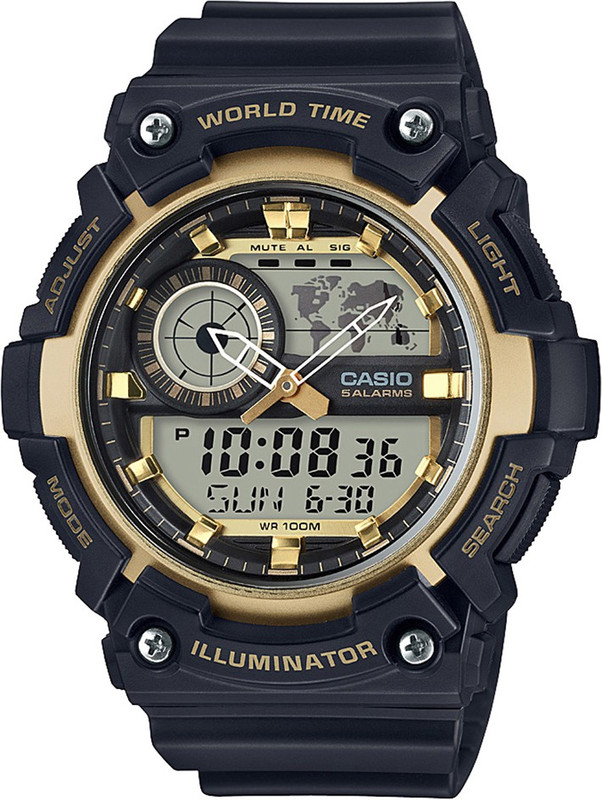 Casio AD212 Youth Combination ( AEQ-200W-9AVDF ) Analog-Digital Watch - For Men
as of February 21, 2020 1:33 pm
Highlights
Watch Movement: Quartz
Water Resistant (100 m)
Display Type: Analog-Digital
Strap: Black, Resin
Chronograph
Date Display Available
Specifications
General
Water Resistant
Yes
Display Type
Analog-Digital
Style Code
AD212
Series
Youth Combination ( AEQ-200W-9AVDF )
Occasion
Sports
Watch Type
Sports Watch
Pack of
1
Sales Package
1 Box, 1 Watch, 1 Warranty Card With Serial Number, 1 Warranty Term Sheet, 1 User Manual
Calendar
Yes
Mechanism
Quartz
Model Name
AEQ-200W-9AVDF
Body Features
Strap Material
Resin Strap
World Time
Yes
Dual Time
Yes
Strap Type
Resin
Case/Bezel Material
Resin
Water Resistance Depth
100
Power Source
Battery Powered
Light
Amber Color LED Light
Date Display
Yes
Clasp Type
Buckle
Alarm Clock
Yes
Other Functions
Resin Glass World map for world time, World time (31 time zones), Home city/World time city swapping 1/100-second stopwatch Measuring capacity: 23:59'59.99'' Measuring modes: Elapsed time, split time, 1st-2nd place times Countdown timer Measuring unit: 1/10 second Countdown range: 24 hours Countdown start time setting range: 1 second to 24 hours (1-second increments,1-minute increments and 1-hour increments) 5 daily alarms or one-time alarms Hourly time signal Regular timekeeping Analog: 2 hands (hour, minute (hand moves every 20 seconds)) Digital: Hour, minute, second, pm, month, date, day Accuracy: ±30 seconds per month
Dial Color
Gold
Dimensions
Width
51 mm
Height
54 mm
Thickness
16 mm
Weight
54 g
Warranty
Domestic Warranty
2 Year
Warranty Service Type
Customer needs to visit the Authorized Service Centre, along with TAX Paid Invoice & duly filled Warranty Card with Serial Number
Youth Combination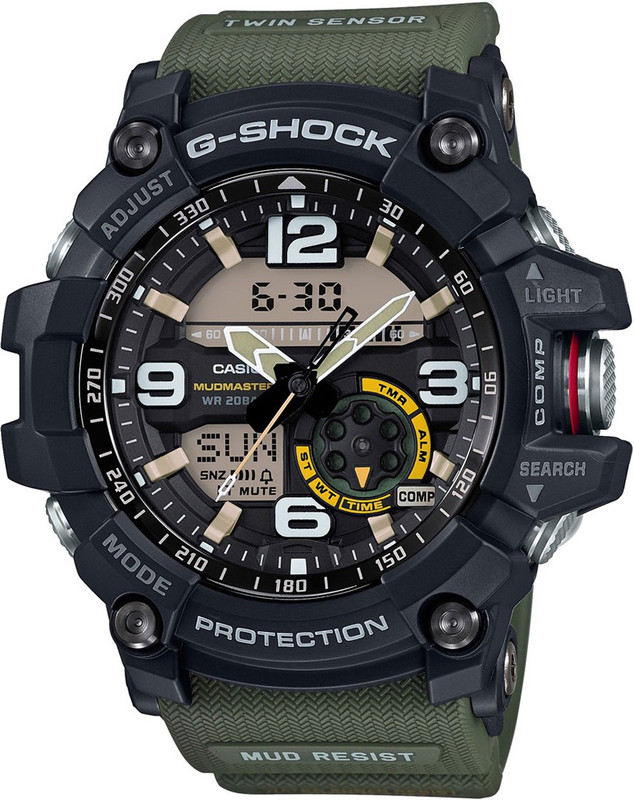 Casio G662 G-Shock ( GG-1000-1A3DR ) Analog-Digital Watch - For Men
as of February 21, 2020 1:33 pm
Highlights
Watch Movement: Quartz
Water Resistant (200 m)
Display Type: Analog-Digital
Strap: Green, Resin
Chronograph
Date Display Available
Specifications
General
Water Resistant
Yes
Display Type
Analog-Digital
Style Code
G662
Series
G-Shock ( GG-1000-1A3DR )
Occasion
Casual
Watch Type
Wrist Watch
Pack of
1
Sales Package
1 Box, 1 Watch, 1 Warranty Card With Serial Number, 1 Warranty Term Sheet, 1 User Manual
Shock Resistance
Yes
Calendar
Yes
Mechanism
Quartz
Model Name
GG-1000-1A3DR
Body Features
Strap Material
Resin Strap
World Time
Yes
Dual Time
Yes
Strap Type
Band
Case/Bezel Material
Resin, Metal
Water Resistance Depth
200
Power Source
Battery Powered
Power Reserve Indicator
Yes
Light
Electro-luminescent Supper Illuminator
Date Display
Yes
Compass
Yes
Clasp Type
Buckle
Alarm Clock
Yes
Other Functions
MUDMASTER-Mud Resistance structure, Neobrite, Digital compass (NORTH):Hand indication of north (20 seconds continuous measurement),Measures and displays direction as one of 16 points, Measuring range: 0 to 359, Thermometer: Display range: 10 to 60C (14 to 140F),Display unit: 0.1C (0.2F), World time 31 time zones, 100-second stopwatch, Measuring capacity: 23:59'59.99'', 5 daily alarms (with 1 snooze alarm), Hourly time signal, Low battery alert, Full auto-calendar (to year 2099), Button operation tone on/off
Dial Color
Black
Dimensions
Width
55.3 mm
Height
56.2 mm
Thickness
17.3 mm
Weight
94 g
Warranty
Domestic Warranty
2
International Warranty
1
Warranty Service Type
Customer needs to visit the Authorized Service Centre, along with TAX Paid Invoice & duly filled warranty card with Serial Number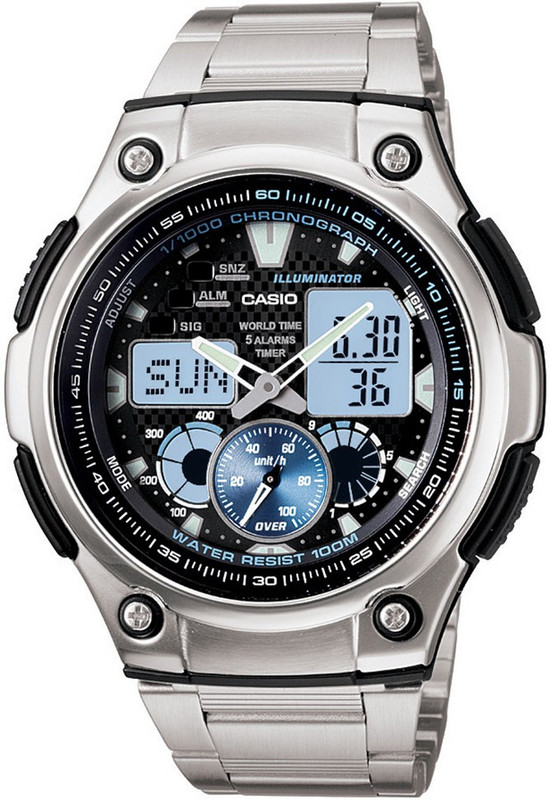 Casio AD160 Youth Combination ( AQ-190WD-1AVDF ) Analog-Digital Watch - For Men
as of February 21, 2020 1:33 pm
Highlights
Watch Movement: Quartz
Water Resistant (100 m)
Display Type: Analog-Digital
Strap: Silver, Stainless Steel
Chronograph
Date Display Available
Specifications
General
Water Resistant
Yes
Display Type
Analog-Digital
Style Code
AD160
Series
Youth Combination ( AQ-190WD-1AVDF )
Occasion
Casual
Watch Type
Wrist Watch
Pack of
1
Sales Package
1 Box, 1 Watch, 1 Warranty Card With Serial Number, 1 Warranty Term Sheet, 1 User Manual
Calendar
Yes
Mechanism
Quartz
Model Name
AQ-190WD-1AVDF
Body Features
Strap Material
Stainless Steel Strap
World Time
Yes
Dual Time
Yes
Strap Type
Linked
Case/Bezel Material
Metal
Water Resistance Depth
100
Power Source
Battery Powered
Light
Electro-luminescent Backlight
Date Display
Yes
Clasp Type
One Touch 3-fold clasp
Alarm Clock
Yes
Other Functions
12/24 Hours Format, Stopwatch, Countdown Timer, Alarm with Snooze Settings, World Time Display, Full Auto-Calendar till 2099, 29 time Zones, Daylight Saving On/Off, Home City or World Time City Swapping, Elapsed Time, Split Time
Dial Color
Black
Dimensions
Width
45.4 mm
Height
50.1 mm
Thickness
13.7 mm
Weight
98 g
Warranty
Domestic Warranty
2
Warranty Service Type
Customer needs to visit the Authorized Service Centre, along with TAX Paid Invoice & duly filled warranty card with Serial Number
Join Our NEW Telegram Channel and WIN PAYTM CASH FREE-Join Now